By Charlie Knoxville
Got an Opinion? Submit Your Article to Nowboxing.com
Some fighters fight for the love of the sport, some for the legacy, some for the thrill and most importantly fighters should fight for the fans who pay their bills since the boxing fans are the ones buying tickets and pay per views.
Well Floyd "Money" Mayweather Jr. is the exception to the rule.  Floyd Mayweather Jr. openly admits his main reason for fighting is for the money and he brags constantly about how much money he has and how perfect his record is, sure Muhammad Ali and James Toney talked trash but they didn't brag about how much money they had they bragged about how they could whoop your ass!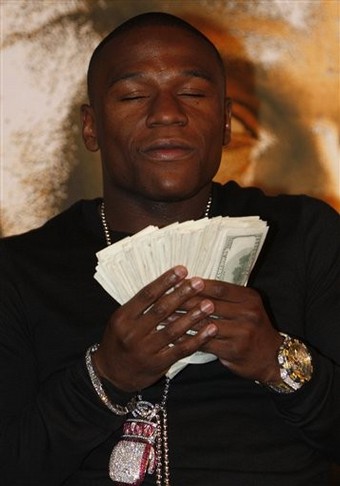 I mean all fighters want the big checks but not all of them base their life solely on how much money they make in revenue, that's because real men and real fighters are not insecure they don't need to boast or brag about what they have or how many pay per views they sold.
Real fighters fight!   Fighters like to test themselves with the toughest challenges possible and putting on the fights that will help their legacy grow while giving the fans the fights they want to see.
Also, when a fighter fights the toughest fights he gains more and more fans and respect.  An example is Oscar De La Hoya he is the biggest boxing draw in the sport.  He also fought everyone.  He fought many legends and top level guys as he climbed up in weight and that helped him gross more money because people liked that he fought everyone and never ducked anyone win or lose.
Floyd Mayweather Jr. fought the best boxing had to offer at 130 and 135 pounds.
But when the torch of pay per view king was passed onto him after beating Oscar De La Hoya in a boring split decision win, he never carried the torch the same way Oscar De La Hoya did.  Manny Pacquiao on the other hand took Floyd's pound for pound crown and has shown that he can carry the torch 100 times better than Floyd.
Recently, Mayweather Jr. tossed up a cop out by demanding Manny Pacquiao take Olympic blood tests and he and his family accused Manny Pacquiao of steroids and human growth hormone after Pacquiao demolished Ricky Hatton and Miguel Cotto.
It shows Mayweather see's Pacquiao as a viable threat because he can't believe that man can do such things and he has to be on something because the things Pacquiao's doing are mind boggling.
Mayweather should fight Manny Pacquiao and put all that drug testing to the side and stick to NSAC rules testing.  In the end the Pacquiao fight gives Mayweather Jr. what he craves the most….MONEY! COLD HARD CASH! and at the same time the fans get the fight they want to see.
Discuss this and other boxing events in the Now Boxing Forum (membership is FREE)

I am an avid fan of boxing and video games. My first fight of memory was watching Prince Naseem Hamed destroy Kevin Kelly. I enjoy all aspects of the sport. My favorite current boxer is Manny "Pacman" Pacquiao. My favorite boxing match is Diego Corrales vs. Jose Luis Castillo 1. I love watching boxing on Pay-Per-View more than being there live because you can really enjoy and watch the action from the best view.