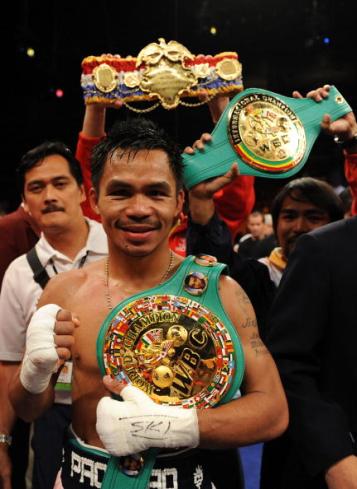 By Charlie Knoxville
Got an Opinion? Boxing Fans Submit Your Article to Nowboxing.com
Boxing could sure use more Manny Pacquiao's. Fighters who fight with hunger, passion and desire.  Imagine if every fighter fought with the intention of putting on an impressive performance, instead of playing safe and coasting to a decision win? Boxing would blowout any sport.
Pacquiao is a throwback.  He would've fit in well in the 1980's, back when you had guys who fought to win and to prove something. You had guys like Marvin Hagler, Alexis Arguello, Ray Mancini, Tommy Hearns, Aaron Pryor, Roberto Duran, guys who came to fight and not leave the fight in the judges score cards.
Today, Boxing seems to have young fighters who lack that young lion hunger.  You have guys like Victor Ortiz who quit in a fight saying he doesn't deserve to get beat up, or Jermain Taylor a guy who has no hunger at all and lacks any type of killer instinct in the ring, or you get Chad Dawson a guy who fights like he is in a point fighting match and is content with putting on a boring show.
The worst thing to see is a guy who has so much skill but never goes for the kill. Some of these fighters hurt their opponents in the ring and have a chance to put them away but instead of going for the kill they back off and are content with just jabbing the guy to a decision. This is why the heavyweight division is pretty much dead, because it is dominated by the Jabbing Wladimir and Vitali Klitschko brothers, these guys have a ton of knockouts but their fights are extremely boring, it mainly consists of jab, jab, jab, jab, and more jab, followed by the occasional right hand.
If you are a young fighter and want to make the big bucks you have to bring it in a fight, fans pay to be entertained, not put to sleep.
Floyd Mayweather Jr.  is an example of a fighter who puts people to sleep.  Mayweather came into the ring for his fight with Carlos Baldomir with a Gladiator uniform and fought more like a point fighter instead of a warrior.  People were so bored they started booing and walking out of that fight demanding their money back.
The only reason  many people pay for a Mayweather Jr. fight is to see him lose and they don't want to miss the opportunity of seeing Mayweather's annoying mouth shut.
Boxing fans want to get their money's worth, they want to see a fighter go for the knockout when their opponent is hurt.
This is why people paid to watch Mike Tyson fight and why Manny Pacquiao is considered the most exciting fighter in boxing today.  They excite the fans and go for the KO when they hurt their opponent and try to get the job done.
Like "Iron" Mike Tyson, Manny "Pacman" Pacquiao brings an aura of invincibility, Pacman fights with the same intensity and ferociousness that Tyson had when he was younger.
The difference between Manny Pacquiao and Mike Tyson is that Manny Pacquiao never lost his hunger once he became a superstar,  Pacquiao never lost that intense, ferociousness and desire in the ring, Tyson on the other hand became lazy and never had the same type of hunger he had pre-Buster Douglas loss, Tyson basically fought just for paychecks later in his career.
Pacquiao fights with the same intensity he did as a young kid starting out in the Philippines and fighting to put food on his families table.
You rarely see this in fighters, especially when a fighter gets to the level of a boxing super star.  Fighters usually lose that hunger once they get those golden pay days.
Pacquiao is a top level fighter disposing of top level guys at the highest level in boxing and dominating guys in blistering fashion.
This is why Manny is taking on Joshua Clottey, Pacquiao doesn't want any easy fights he always wants to fight the toughest guys out there.
Pacquiao wanted Mayweather bad, but Mayweather had to look for a cop out with the Olympic style blood testing for steroids stipulation.
Let's enjoy Manny Pacquiao while we can, we may never see another fighter like him in a long time.  Boxing  could sure use more Manny Pacquiao's.
(Please refrain from leaving any Vulgar, Racist comments or they will be removed, Thank You)
Post your Comments in the Now Boxing Forum (membership is FREE)

I am an avid fan of boxing and video games. My first fight of memory was watching Prince Naseem Hamed destroy Kevin Kelly. I enjoy all aspects of the sport. My favorite current boxer is Manny "Pacman" Pacquiao. My favorite boxing match is Diego Corrales vs. Jose Luis Castillo 1. I love watching boxing on Pay-Per-View more than being there live because you can really enjoy and watch the action from the best view.