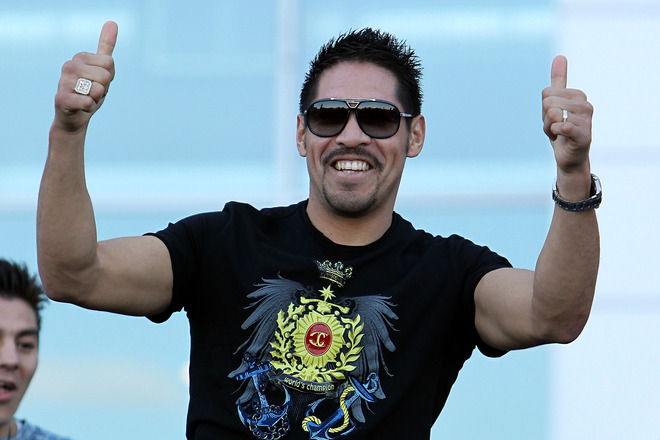 Antonio Margarito at the Pacquiao vs. Clottey weigh-in.(Photo by Jed Jacobsohn/Getty Images)
Former Mexican welterweight champion, Antonio Margarito, is in Dallas, Texas to attend the Manny Pacquiao vs. Joshua Clottey fight and is eying a possible future match up with the Filipino champion down the line.
Antonio Margarito hasn't fought in the U.S. since his suspension a year ago for illegal hand wraps that were discovered prior to his TKO loss to Sugar Shane Mosley.
He will make a comeback in Mexico on a May 8th  Top Rank card against Carson Jones. Margarito and Jones were initially to fight on the undercard of this Saturday's Pacquiao vs. Clottey card, but Margarito's application for a boxing license was not granted.
Antonio Margarito told the STAR "I want to fight Manny Pacquiao. I want my title back. I'll fight him anywhere, even in Manila. I've heard a lot of good things about Filipino fans. I would love to visit the Philippines someday."
Margarito insists that he doesn't need Manny to undergo extra blood tests to fight him, like Floyd Mayweather Jr. requested of Pacquiao, Manny disagreed on the terms, causing the Floyd Mayweather Jr vs. Manny Pacquiao super fight to fall through. Margarito feels it's not a fighters right to demand the extra Olympic steroid/performance enhancing drug tests.
"That's up to the supervising commission," said Margarito. "I don't think it's right for a fighter to insist on a type of drug-testing, like the Olympic-style random blood-testing. If that's what the commission requires, then that's what will be done. But for a fighter to insist on a test that the commission doesn't require isn't right."
Margarito and Pacquiao are both promoted by Bob Arum of Top Rank Promotions, making a future fight between the two boxers would be easier because both fighters are under the same promotional banner.
Got an Opinion? Submit Your Article to be posted on Nowboxing.com
(Please refrain from leaving any Vulgar, Racist comments or they will be removed, Thank You)
JOIN the Now Boxing Forum (membership is FREE)