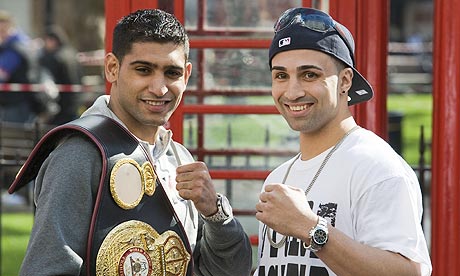 Junior Welterweights, Amir Khan and Paulie Malignaggi were in England to announce their May 15 HBO boxing match at New York's Madison Square Garden . Malignaggi is best known for accusing Manny Pacquiao of taking steroids, and  tarnishing anyone associated with Manny Pacquiao, including other fighters trained by Freddie Roach and Alex Ariza.
One of those associated with Team Pacquiao is British boxing star, and WBA Junior Welterweight champ, Amir Khan, who is trained by Roach and also uses Alex Ariza as his conditioning coach.
Freddie Roach has made it known that he is really pissed off at Malignaggi's unfounded comments on steroids and Khan echos those sentiments.
"You've got Freddie Roach and Alex Ariza, who spend so much time working on the fighters and then you've got people turning round saying we are on drugs. Any time they want to do a drugs test on me I'll put my hand up to prove to them I am not on drugs. I've never taken anything. I'm a natural athlete – just like Manny Pacquiao". Said Khan.

"I don't think he should apologize to me, but he should to the trainers  and for disrespecting Manny Pacquiao more than anything. I'll make him sorry when I'm in the ring with him on 15 May".
Amir Khan was accompanied by his new promoter Oscar De La Hoya of Golden Boy Promotions, Khan was previously promoted by Frank Warren but switched over because of his desire to be a crossover star in the United States.  Khan also stated in 18-months time he would like to challenge Floyd Mayweather Jr. and Manny Pacquiao.
The Pacquiao challenge will probably never happen, since Freddie Roach trains both guys, and Pacquiao considers Khan a good friend and stated he would never fight the 23-year old Bolton boxer.
The best fights for Khan will be with other young fighters at 140 pounds, such as Timothy Bradley, Victor Ortiz, Marcos Maidana and Devon Alexander.
Got an Opinion? Submit Your Article to be posted on Nowboxing.com
(Please refrain from leaving any Vulgar, Racist comments or they will be removed, Thank You)
JOIN the Now Boxing Forum (membership is FREE)