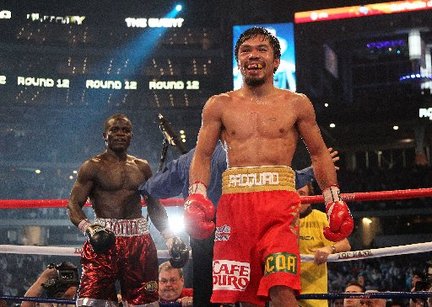 Pacquiao smiling enjoying his craft (Photo Credit:Getty Images)
By Freddy Fresco
What pride is there in not trying?
I am not fighter, I got mucho respect for boxers, but Joshua Clottey seemed content with just being a punching bag for Manny Pacquiao.
How could you hold your head up high after a performance like that?
It is safe to say Joshua Clottey is no Azumah Nelson.
Manny Pacquiao did what he had to do against an unwilling foe. Clottey didn't do much, he was looking like a kid who was getting beaten up by a bully and just covering up in hopes that the bully would stop punching him out of pity, but Pacquiao didn't stop blasting away for 12-rounds.
The most entertaing moment in the fight came when Pacquiao threw a double punch, tapping Clottey's ears in a desperate attempt to wake Clottey up and pop his head out of his turtle shell.

Pacquiao, as always, put on a show, Clottey should work for Master Lock because his defense was hard to open.
The speed and aggression that Manny Pacquiao displayed was frightening, I wish Clottey opened up more and tried to mix it up, since he was landing clean on Pacquiao when he did throw.
Freddie Roach was correct, defense doesn't win fights and it showed Saturday night.
I don't blame Floyd Mayweather Jr. for looking for a way out during negotiations, Pacquiao shows no sign of decline and at age 31 threw the most punches he has ever thrown in a single fight, and all 1,231 of them with bad intentions.
Sidenote: Jerry Jones really knows how to put on a show, The Event: Pacquiao vs. Clottey sold 50,994 tickets, the majority there to see the Pac-monster, Pacquiao. Can you blame Floyd Mayweather for not wanting to fight in Texas? It's obvious who the crowd would be cheering for if he fought Manny at Cowboys stadium, and would be a blow to Floyd's ego, since he considers himself the biggest draw in the sport with the most fans.
Got an Opinion? Submit Your Article to be posted on Nowboxing.com
(Please refrain from leaving any Vulgar, Racist comments or they will be removed, Thank You)
JOIN the Now Boxing Forum (membership is FREE)