By Lester Salvador
I believe March 13, 2010, will be the day that the Manny "Pacman" Pacquiao train comes to a screeching halt. With all the distractions and overconfidence coming from Manny, this Saturday night has all the makings of an upset.
When I watched the weigh-in for the Manny Pacquiao vs. Joshua Clottey fight, I saw a Featherweight vs. a Welterweight. The size difference was apparent. Pacquiao is finally facing a man who is fresh, in his prime, strong and not drained from a Catch-weight.
I find it funny that Clottey is a huge underdog in this fight. He has never been hurt in a fight, and even claims that he never felt the power of his opponents punches, not even the punches of Antonio Margarito.
In the Photo below you will see the obvious size difference between Manny Pacquiao and Joshua Clottey, Roach thinks size doesn't win fights, but when a blown up featherweight is going against a full fledged 147 lb fighter, size makes a difference.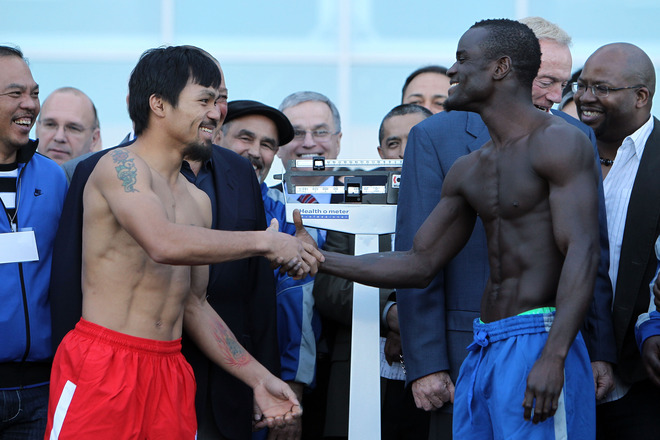 (Photo by Jed Jacobsohn/Getty Images)
Pacquiao is focusing on politics, singing a post fight concert for a fight he hasn't even won yet, and enjoying his fame. Joshua Clottey on the other hand only has one thing on his mind and that is destroying Manny Pacquiao.
Joshua Clottey is the perfect type of fighter to pull off the upset against Manny Pacquiao. Clottey will capitalize on this opportunity. He is hungry and has nothing to lose, what people forget is a hungry fighter who has nothing to lose is dangerous, think Buster Douglas Vs. Mike Tyson.
Pacquiao has never faced a man as big and strong as Joshua Clottey, or as defensive as Clottey. Clottey may not be fast on his feet but he has a impenetrable guard defense and can block punches from any angle.
His chin is also superior to the Filipino boxer's. Clottey has never been hurt in a fight or knocked out, his only knockdown was an off balance, flash knock down by Miguel Cotto, it was more from running into a jab and being pushed off balance.
Most of all, Joshua Clottey will not be weight drained for this fight. Pacquiao's previous opponents were either shot, weight drained or had some form of distractions prior to their fights with Pacquiao, and they suffered in the ring because of it.
People are quick to forget that Joshua Clottey is considered one of the most feared welterweights in boxing along with Paul Williams.
All of a sudden people are picking Manny Pacquiao to beat  Joshua Clottey one of the most avoided fighters?
It goes to show that the majority of boxing fans have fallen for the media hype of the Pacquiao express.
This Saturday night at Cowboys Stadium in Dallas, Texas they could be in for another rude awakening.
Got an Opinion? Submit Your Article to be posted on Nowboxing.com
(Please refrain from leaving any Vulgar, Racist comments or they will be removed, Thank You)
JOIN the Now Boxing Forum (membership is FREE)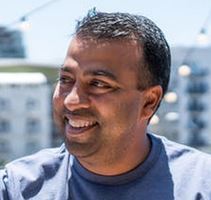 I love the sweet science of boxing and enjoy sharing my opinion on it.  Boricua!