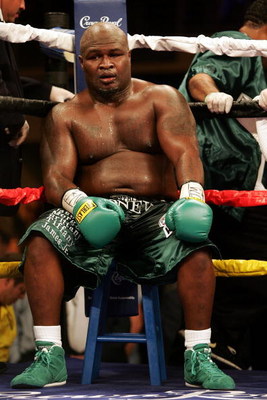 Hall of Fame boxing trainer, Freddie Roach, is no stranger to James Toney, having trained the fighter for several fights he shared his opinion on Toney's entrance into the UFC.
Roach is currently in Dallas, Texas to corner his prized pugilist, Manny "Pacman" Pacquiao, when he takes on African boxer, Joshua Clottey, Saturday, March 13, 2010.
In a recent interview for Gary Randall and Craveonline. Roach answered various topics, including his opinion on MMA, Roach has trained MMA fighters in the past such as; B.J. Penn, Andrei Arlovski, Anderson Silva, Tito Ortiz, and considers them all talented fighters.
JOIN the Now Boxing Forum (membership is FREE)
One of the subjects discussed was the recent UFC signing of his former fighter James Toney and Toney's foray into the world of Mixed Martial Arts.
"I think they're using James as a way to say MMA fighters are better than boxers.  If he fights a quality ground guy, once he goes to the ground he's gonna get killed.  But If a guy chooses to stand up with James, James is gonna destroy him.  That's why they call him "Lights Out".  I really don't think there's one fighter in MMA that could stand with James." said Roach.

Many in the boxing community feel the way Roach does on the situation. James Toney is 41 years old and past his best, it would be a stretch for him to pull off a successful career in MMA with little time to learn the ground game.  No opponent or fight date has been set for his octagon debut, but James Toney has already begun training with Juanito Ibarra, former head trainer of Quinton "Rampage" Jackson.
Got an Opinion? Submit Your Article to be posted on Nowboxing.com
(Please refrain from leaving any Vulgar, Racist comments or they will be removed, Thank You)
JOIN the Now Boxing Forum (membership is FREE)