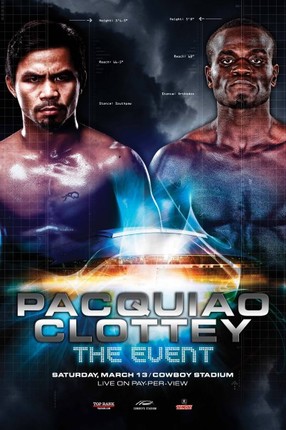 HBO Sports presents: Road to Dallas: Pacquiao vs. Clottey a 30-minute, pre-fight countdown show leading up to "The Event" Pacquiao vs. Clottey, the first ever boxing event at the brand new Cowboys Stadium in Arlington, Texas on March 13.
The WBO welterweight title fight, Manny Pacquiao (50-3-2, 38 KOs) vs. Joshua Clottey (35-3, 21 KOs), will be the first big boxing event of 2010, followed by a mega fight with Floyd Mayweather Jr. vs. Shane Mosley on May 1st.
If Pacquiao beats Clottey, Mayweather Jr. beats Mosley, and the two boxer compromise on Olympic style blood testing, a possible Pacquiao vs. Mayweather Jr. super fight could happen at the end of the year.
Road to Dallas: Pacquiao vs Clottey will premiere on HBO on Saturday, March 6, right after Boxing After Dark "Devon Alexander vs. Juan Urango" (9:30 pm ET/PT). The special will replay several times on HBO and will also be available on HBO On Demand®,  and online, right after it airs on HBO.
Got an Opinion? Submit Your Article to be posted on Nowboxing.com
(Please refrain from leaving any Vulgar, Racist comments or they will be removed, Thank You)
JOIN the Now Boxing Forum (membership is FREE)