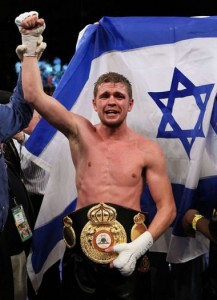 Jewish World Boxing Association (WBA) junior-middleweight champion and future rabbi Yuri Foreman (28-0, 8 KOs) will be a guest on ABC's "Jimmy Kimmel Live", on Thursday April 29 (12:05 AM ET/PT).
This will be Foremans US television debut, and joins the list of boxers who appeared as guests on the late night talk show; Mike Tyson, Floyd Mayweather Jr. and Manny Pacquiao have all appeared on the Jimmy Kimmel Live show.
Foreman will be promoting his June 5th HBO boxing fight at Yankee Stadium in New York against former welterweight champion, Miguel Cotto (34-2, 27 KOs). Also appearing on the April 29 episode of Kimmel Live will be Courtney Love and her musical group HOLE.
Yuri Foreman Vs. Miguel Cotto is promoted by Bob Arum's Top Rank promotions and broadcast by HBO boxing, Tickets for the  June 5th "Foreman Vs. Cotto" title fight at Yankee Stadium are still available for purchase at ticketmaster.com.
Get Free tickets to see Yuri Foreman on Jimmy Kimmel Live HERE
Got an Opinion? Submit Your Article to be posted on Nowboxing.com
JOIN the NOW BOXING FORUM to discuss this and other boxing news topics (membership is FREE)