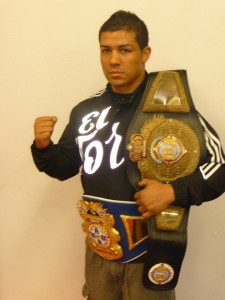 NEW YORK (May 9, 2010) – Veteran Angel "El Toro" Hernandez is arguably, pound-for-pound, one of the toughest boxers in the business. The Mexican native, fighting out of Chicago, has parlayed impressive back-to-back performances into a May 22 title fight against Peter Manfredo, Jr. at Mohegan Sun in Uncasville, Connecticut.
"It's all in his nickname – 'Toro' means bull," Angel's trainer "Fearless" Fernando Hernandez describes his fighter. "He is a charger who has evolved into a good boxer. He's very tough!"
The 34-year-old Hernandez (30-7, 17 KOs) has taken a different road to his upcoming battle against Manfredo (34-6, 18 KOs) for the vacant IBO middleweight championship. His last two fights have been wins against multiple world title challenger Antwun Echols (31-11-4), last August when Echols failed to answer the bell for the seventh round, and a 10-round decision against then hot prospect James McGirt Jr. (19-1-1) on ESPN Friday Night Fights.
During the course of his 14-year pro career, the battle-tested Hernandez has also defeated Randall, Larry Marks, Victor Rosado, J.C. Candelo and Leonard Townsend, in addition to having fought Kassim Ouma, Raymond Joval, Vanes Martirosyan and Rhoshii Wells.
Hernandez, who will be making his debut fighting for promoter Boxing 360, feels that his time has finally come. "This opportunity is long overdue," Angel said about his first fight in New England. "I've proven myself but haven't had a world title shot since I fought Winky Wright (LDEC12) in 2003. I'm ready and excited about my fight for the IBO title."
Manfredo was stopped in his two previous world title shots to Joe Calzaghe (IBF super middleweight) and Sakio Bika (IBO super middleweight). His notable victims include former world champions Frankie Randall and Grady Brewer, along with contenders Scott Pemberton, Alfonso Gomez, and Matt Vanda.
"I know Peter," Angel added. "I remember him from when we both were sparring partners at training camp for Fernando Vargas. And then I heard a lot about him on The Contender (Manfredo lost to Sergio Mora in the Season One finale). He can't bring anything into the ring that I haven't seen before and I doubt he's tougher than the other guys I've fought. I'm not underestimating him but I'm a veteran with a lot of confidence I will walk away May 29th as the IBO middleweight champion of the world."
Got an Opinion? Submit Your Article to be posted on Nowboxing.com
JOIN the NOW BOXING FORUM to discuss this and other boxing news topics (membership is FREE)