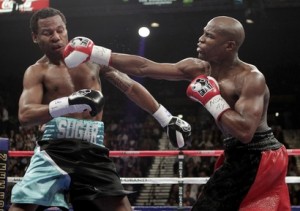 (AP photo)
Floyd Mayweather Jr. showed his brilliance tonight and remained unbeaten with a record of (41-0, 25 KOs). After being stunned in the early rounds by Mosely's right hands, Mayweather took control of the fight in the third and adjusted on route to a unanimous decision victory against one of the top welterweights in the world.
Mayweather proved his detractors wrong in this fight. He didn't run away after being hurt by Mosley, in fact, he pressed the action and stayed inside the pocket making Mosley more tentative as the fight went on.
It was evident in the fight that Mosley's stamina was an issue, he was tired and breathing heavily, Mayweather's corner sensed this and pressed the action by picking their shots on the 38-year old Mosley.
In the end, Mosley couldn't figure out the Mayweather puzzle and only won a few rounds on the judges score cards. Mayweather made a statement with his performance tonight, and added another name to his legacy of opponents. After tonight Mayweather has a good case for reclaiming his pound-for-pound title from rival Manny Pacquiao.
Many boxing fans questioned Mayweather's heart and his choice of opponents, believing that Mosley would be Floyd Mayweather's toughest opponent to date because he was a legit strong welterweight, compared to his smaller opponents in Ricky Hatton and Juan Manuel Marquez.
In the post fight interview with HBO's Larry Merchant, Mayweather said he was willing to face Manny Pacquiao, but only if he takes the blood tests that Floyd Mayweather Jr. and Shane Mosley underwent.
A Mayweather vs. Pacquiao fight would be one of the biggest fights in history.
Got an Opinion? Submit Your Article to be posted on Nowboxing.com
JOIN the NOW BOXING FORUM to discuss this and other boxing news topics (membership is FREE)