In support of Puerto Rican boxing legend, Miguel Cotto, Mark Ecko designed a special walkout t-shirt for him to wear for his upcoming WBA 154-pound title fight against Yuri Foreman at Yankee Stadium on HBO.
Cotto is one of the few boxing warriors in the game today, he gives it his all in every fight, win or lose, he puts on a show for the fans. His last fight was a proof of that, even though he lost against Manny "Pacman" Pacquiao there was no quit in him.
Cotto looks to bounce back and prove the naysayers wrong when he moves up in weight to take on undefeated junior middleweight champion Yuri Foreman, if Cotto wins he will become a three weight division world champion.
ShopEcko.com is proud to announce the arrival of Miguel Cotto's official walkout t-shirt for his historic fight at Yankee Stadium on June 5th. Check the shirt out below.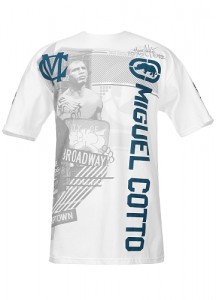 If you like the shirt and a huge boxing fan and want to support Miguel Cotto, you can order the special edition shirt online at ShopEcko.com make sure to order fast because  there are only a limited amount available and get them before they run out.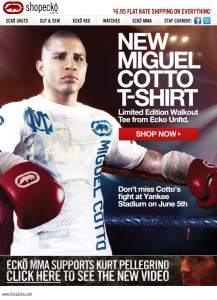 Got an Opinion? Submit Your Article to be posted on Nowboxing.com
JOIN the NOW BOXING FORUM to discuss this and other boxing news topics (membership is FREE)