PROVIDENCE (June 22, 2010) – New England and EBA super middleweight champion "Irish" Joey McCreedy (11-4-2, 6 KOs), trained by "Irish" Micky Ward and Dicky Eklund, was having a problem finding a suitable opponent for his July 9th fight in the 8-round co-feature on "Let Freedom Ring" presented by Jimmy Burchfield's Classic Entertainment and Sports, Inc. (CES), at the Twin River Event Center in Lincoln, RI.
When his good friend and CES stable mate, undefeated Cape Verdean boxer Vladine Biosse (6-0, 4 KOs), found himself without an opponent due to an injury suffered by Chris Traietti, promoter Jimmy Burchfield asked both fighters and their representatives if they'd like to get it on in the ESPN FNF co-feature.
"I give both teams credit for stepping up and taking the fight," an ecstatic Burchfield said. "This is going to be a great, action-packed fight. It's a pick 'em fight, exactly what kind of fight fans want to see. Real fighters fight, they don't pick and choose opponents to build up their records. Joey and Vlad are real fighters and boxing fans all over are going to see that July 9."
They're both good athletes, too. McCreedy was a standout running back for Lowell High, while Biosse, a native of Cape Verde, was a member of the University of Rhode Island football team.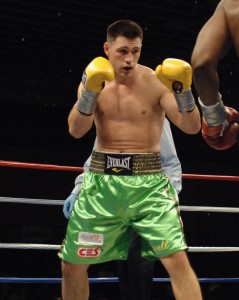 Photo of Joey McCreedy (credit Emily Harney )
"Real fighters fight and fighting on national television is a great opportunity for both of us," McCreedy explained. "That's what we are – real fighters — and it's a going to be a great fight, a throwback type of fight between two warriors. Vlad and I are friends. I love the guy, but this is business. We just have to put our friendship aside while we're in the ring. We'll both give it our best and may the best man win. I have a lot of respect for Vlad as a friend and fighter. I don't think he's fought anybody as tough as me. I've had more opportunities because I've been fighting longer than him. He hasn't fought anybody with my power and skills. We going to share the national limelight fighting on ESPN and it's going to be one of the best fights ESPN has had in a long time."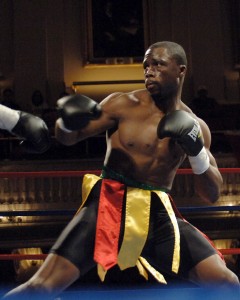 Photo of Biosse (credit Emily Harney)
McCreedy, like Ward when he fought Arturo Gatti for the first time, will throw out the ceremonial first pitch (7 PM) Friday night at a minor-league game between the Lowell Spinners, the rookie Class A affiliate for the Boston Red Sox, and Connecticut Tigers at LeLacheur Park in Lowell.
Biosse, who came to the United States from Cape Verde unable to speak a word of English, has become quite eloquent, as well as becoming a U.S. citizen. "This is a big fight and a great opportunity to showcase what I've been working so hard to improve on into 40 million homes on ESPN," Providence resident Biosse commented. "It's what I've worked for. Joey and I have been good friends since before I turned pro. We're cool with the fight; no anger or grudges. We understand that we're in the fight business and we're going to war. I'm going to bring my best to win and I'm sure he is, too.  I like him a lot as a friend and fighter. I respect his style.
"We both understand that we're in the business of fighting – that's what we do. A lot of fighters pick and choose, and dodge opponents. I figure if I'm going to be a good fighter, let's prove it now. I work hard and I'm trained by one of the best, Orlondo Valles. One of the reasons I signed with Jimmy Burchfield and CES is because he's a businessman who loves boxing. He promotes boxing the right way and isn't afraid to put two of his good fighters into the ring against each other. I'm bringing my all and it's going to be a great fight. Joey and I will still be friends after the last bell rings."
NABO lightweight champion "Hammerin'" Hank Lundy (18-0-1, 10 KOs), now rated No. 7 by the World Boxing Association, makes his first title defense against challenger John John "The Hammer" Molina (20-1, 16 KOs) in the 10-round main event. Quincy (MA) welterweight Aleksandra Magdziak Lopes (2-1, 1 KO) will be out for revenge in a 6-round rematch against the only opponent to defeat her, Providence's Kali Reis (2-0 1 KO), who won a hotly-contested 4-round decision in their first meeting.
Providence firefighter Eric Estrada makes his long-awaited pro debut in a 4-round match against cruiserweight Antonio Robertson (0-1). Estrada, whose brother is 2004 U.S. Olympian Jason "Big Six" Estrada, was perfect as an amateur with a 6-0 record, including victories in the New England Golden Gloves Tournament and Rocky Marciano Tournament.
Roxbury (MA) super middleweight Maceo Crowder (2-0, 1 KO), whose brother is 2008 U.S. Olympian Demetrius Andrade, meets pro-debuting Worcester (MA) mixed martial arts fighter Ralph Johnson.
Also slated to fight in 4-round bouts against opponents to be announced are Warwick (RI) super middleweight Keith Kozlin (5-1, 3 KOs), Woonsocket (RI) super middleweight Joe Gardner (4-1-1, 1 KO), Lincoln light welterweight Diego Pereira (4-0, 2 KOs), and Fall River (MA) middleweight Dustin Reinhold (1-1, 1 KO). All fights and fighters are subject to change.
Tickets for "Let Freedom Ring," priced at $35.00, $50.00, $75.00 and $100.00, are available to purchase by calling CES (401.724.2253/2254), going online at www.cesboxing.com or www.twinriver.com, at Twin River's Players Club booth at Twin River, or any TicketMaster location.
Contact CES (401.724.2253/2254/www.cesboxing.com) or the Twin River Event Center (877.82.RIVER/ www.twinriver.com) for more information. Doors open at 5:30 PM/ET, first bout at 6:30 PM/ET.
(Twin River has waived its 18+ rule for "Let Freedom Ring." Anybody under the age of 18 must be accompanied at all times by an adult and they must enter through the West entrance.)
Got an Opinion? Submit Your Articles and Press Releases to be posted on Nowboxing.com
JOIN the NOW BOXING FORUM to discuss this and other boxing news topics (membership is FREE)