PROVIDENCE (June 15, 2010) – Red-hot lightweight prospect "Hammerin'" Hank Lundy, rated No. 13 by the World Boxing Association, makes his first title defense against challenger John John "The Hammer" Molina (20-1, 16 KOs) in the 12-round main event July 9 on "Let Freedom Ring," presented live on ESPN Friday Night Fights by Jimmy Burchfield's Classic Entertainment and Sports, Inc. (CES), at Twin River Event Center in Lincoln, R.I.
The always entertaining, fan-favorite Lundy (18-0-1, 10 KOs), fighting out of Philadelphia, has made the Providence area his second home with this being his fifth fight in that market. The 26-year-old has defeated Tyrese Hendrix (18-0-1), Richard Abril (12-1-1), Jason Cintron (10-0), Esteban Alveraz (7-0) and fought Darnell Giles, Jr. (8-0) to a controversial draw.
"I'm ready to go and I think my first ESPN main event is overdue," Lundy commented. "It feels real good. I've fought on ESPN three or four times. They liked what they saw and that's why I'm back fighting on national television, but this time I'm in the main event. I put on a show for fans every time I'm in the ring."
The NABO No. 9 rated Molina will be fighting east of the Mississippi River for the first time when he steps into the ring. He has beaten Efren Hinojosa (30-6-1), Frankie Achuleta (25-6-1) and Fernando Omar Lizarraga (16-1-1).
"He doesn't impress me, not one bit," the often outspoken Lundy said about his opponent. "He hasn't fought the quality of opponent like me. Molina's credentials are fraudulent. He has a beefed-up record. I can box but, most of the time, I just go in and blast away. Fans are going to see better boxing skills from me in this fight. John Molina is done. He may be 5-10 but he gives-up his height. He's dumb.
"This nationally televised fight is going to prove I'm the top lightweight prospect in boxing. I'm going to be looking to get him out of there and, if it goes the distance, he's going to get a real butt whooping. I'm 'Hammerin' Hank, he calls himself 'The Hammer.' I'm the real 'Hammer' and when I hit him with my hammer, he's going to sleep."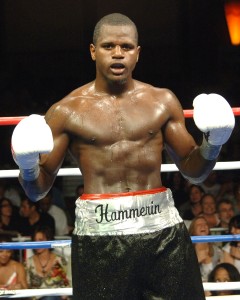 Photo of Hank Lundy (Picture by Emily Harney)
New England and EBA super middleweight champion "Irish" Joey McCreedy (11-4-2, 6 KOs), trained by "Irish" Micky Ward and fighting out of Lowell (MA), makes his  middleweight debut in the 8-round co-feature against an opponent to be determined.
In a rare battle of college graduates, undefeated Cape Verdean boxer Vladine Biosse (6-0, 4 KOs), a former University of Rhode Island football player living in Providence, steps-up in class Quincy (MA) light heavyweight Chris Traietti (8-2, 5 KOs), an Iraq War veteran, in the 6-round ESPN swing bout.
Quincy (MA) welterweight Aleksandra Magdziak Lopes (2-1, 1 KO) plans to avenge her only loss against Providence's Kali Reis (2-0 1 KO), who won a hotly-contested 4-round decision in their first meeting, in a 6-round rematch.
Providence firefighter Eric Estrada makes his long-awaited pro debut as a cruiserweight in a 4-round match against Antonio Robertson (0-1). Estrada, whose brother is 2004 U.S. Olympian Jason "Big Six" Estrada, was perfect as an amateur with a 6-0 record, including victories in the New England Golden Gloves Tournament and Rocky Marciano Tournament.
Roxbury (MA) super middleweight Maceo Crowder (2-0, 1 KO), whose brother is 2008 U.S. Olympian Demetrius Andrade, takes on Worcester (MA) mixed martial arts fighter Ralph Johnson in his pro boxing debut.
Also slated to fight in 4-round bouts against opponents soon to be announced are Warwick (RI) super middleweight Keith Kozlin (5-1, 3 KOs), Woonsocket (RI) super middleweight Joe Gardner (4-1-1, 1 KO), Lincoln light welterweight Diego Pereira (4-0, 2 KOs), and Fall River (MA) middleweight Dustin Reinhold (1-1, 1 KO). All fights and fighters are subject to change.
Tickets for "Let Freedom Ring," priced at $35.00, $50.00, $75.00 and $100.00, are available to purchase by calling CES (401.724.2253/2254), going online at www.cesboxing.com or www.twinriver.com, at Twin River's Players Club booth at Twin River, or any TicketMaster location.
Contact CES (401.724.2253/2254/www.cesboxing.com) or the Twin River Event Center (877.82.RIVER/ www.twinriver.com) for more information. Doors open at 5:30 PM/ET, first bout at 6:30 PM/ET.
(Twin River has waived its 18+ rule for "Let Freedom Ring." Anybody under the age of 18 must be accompanied at all times by an adult and they must enter through the West entrance.)
Got an Opinion? Submit Your Articles and Press Releases to be posted on Nowboxing.com
JOIN the NOW BOXING FORUM to discuss this and other boxing news topics (membership is FREE)