By Ethan Doutney
After returning from the Mohegun Sun CES Promotions "Pride and Glory" witnessing Nicolia "The Stone Man" Firtha stone Tony "TNT" Grano in two, I returned home to watch the tape of Latin Fury 15. Impressed by Chavez Jr.'s improvement against better competition named John Duddy it was another Jr. I couldn't get off my mind but it was an Irishman. It was Long Island light heavyweight Joe "The Irish Bomber" Smith Jr.
Smith, 20 years old stands chiseled at six foot. His blonde hair and good looks makes him an immediate matinee idol but its more than that that has this young heavy handed boxer puncher on the lips of those who have had the pleasure of watching him do his craft live.
Smith fighting on the undercard of Grano / Firtha remained perfect stopping Berkeley, Missouri's Walter Foster in two. He opened up the heavy artillery early flooring Foster with a quick counter right early in round one, flashing visions of his four previous stoppages before my eye. Not yet though. This time the rugged Foster who came to fight, made it upright looking to trying land one of his own loaded shots which recorded him four Ko's in seven bouts.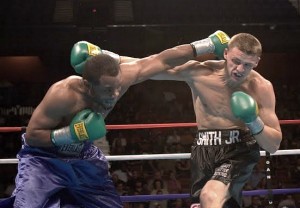 Photo by Bill Doutney
Foster attempted to press the action and did land some wild winging shots but Smith gobbled them up like "Pac Man" never exhibiting any wear or even do so much as take a step back. He remaining as cool as a hired gun slinger firing stiff jack hammer jabs which appeared to stun the courageous Missouri fighter, buckling his knees several times.
Smith's only deficit was he appeared visibly upset his opponent made it to the second stanza. The "Irish Bomber" then opened up his arsenal in round two landing a big right hand forcing Foster to keep ducking for cover. Remaining very poised Smith advanced behind his jab turning Foster into a solid right uppercut which turned out to be the beginning off the end.
Smith a notorious closer even as an amateur, winning the New York Golden Gloves in 2008 smelled blood backing Foster to the ropes ripping him thunderous body shots from both sides dropping the tough Missourian climbing him with a triple left hook, leaving him pulverized on all fours. To his credit Foster somehow made it upright and to the surprise of most at ringside was allowed to continue, only to go on and catch a clean right uppercut seconds later forcing referee Dick Flaherty to reconsider and call it a night at 1:39 of round two.
Smith a double barreled boxer puncher with killer instincts comes behind an educated jab. He is perfect in five opportunities. At 5-0, 5Ko's he has demonstrated he has what it takes to get to the next level but he needs to step up in the class of competition to further his progression. He is always in superb conditioned and is well schooled being trained by former light heavyweight standouts Phil and Gerry Capobianco. Smith shows all the signs of that diamond in the rough. His natural heavy hands and a solid amateur pedigree the foundation appears to be there to be a big time draw and a sure fire bet to grab one of those alphabet belts down the line. If you're a boxing fan he is a must see.
Video of Joe Smith Jr.
*Please refrain from leaving any Racial, Profane or Derogatory comments*
Got an Opinion? Submit Your Articles and Press Releases to be posted on Nowboxing.com
JOIN the NOW BOXING FORUM to discuss this and other boxing news topics (membership is FREE)