NEW YORK (June 14, 2010) – Former Irish heavyweight champion and 1992 Olympian, Kevin "The Clones Colossus" McBride, returns to the ring July 10 for the first time in more than 2 ½ years against veteran Robert "Big Philly" Hawkins in an 8-round bout at Mid-Hudson Civic Center in Poughkeepsie, New York.
The 37-year-old McBride (34-6-1, 29 KOs), fighting out of Boston, is best known for knocking Mike Tyson into retirement. The 6-6, 280-pound Irishman stopped Tyson in the sixth-round of their June 11, 2005 fight in Washington D.C. McBride fought three times after that, his last October 6, 2007 against Andrew Golota, and he's been inactive ever since.
"I got my hunger back for boxing," McBride explained the reason for his comeback. "I'm hungrier than ever to fulfill my dream of becoming the first Irish-born heavyweight champion of the world. I've dreamed of that since I was a kid and still do. The heavyweight division is wide open. The plan is to get a few wins and with the help of the McLoughlin brothers (advisors Eddie and Tony) and my manager, Jerry Quinn, get a world title shot. I'm not old, only 37, but I know I have a short window of opportunity. I've got the heart and punching power. One punch can change anybody's chapter.
"I have Irish pride on my side. I mean business this time. Nobody thought I could beat Tyson and I did. They didn't believe in me then and they're going to doubt me now. I beat Tyson under tremendous pressure and feel that I'm capable of beating anybody. I've been out of action 2 ½ years. I had injuries to my back, ankle and wrist, but I'm healed now and ready to go all out. I was supposed to get a world title shot after I beat Tyson, but I didn't and that took away my hunger for boxing."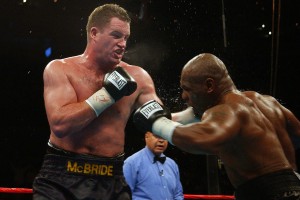 Photo of Kevin McBride from his fight against Mike Tyson (Photo by Emily Harney)
McBride is still being trained by Goody Petronelli, who handled Hall of Famer "Marvelous" Marvin Hagler and former world champion Stevie Collins. In New York, Kevin is working with trainer Nirmal Lorick at the Universal Boxing Gym in Queens.
"Kevin called me about wanting to fight again," McBride's new advisor Eddie McLoughlin explained. "He's been training and sparring here in New York during the week and returning home to see his family on weekends. Kevin has been working hard in the gym and doing everything asked of him. I called my friend, Brian Burke, and he agreed to put Kevin on his card July 10 in Poughkeepsie. This fight should give us an indication of what Kevin has left and how far he can go. No judgments will be made until after this fight."
Hawkins (23-15, 7 KOs) is very experienced having defeated Boris Powell, Gary Bell, Robert Wiggins, Terry Smith and Jerry Ballard, in addition to fighting world champions Oleg Maskaev twice and Samuel Peter, as well as David Tua.
"I felt like I was on top of the world when I beat Tyson," McBride continued, "but complete gratification as a boxer is winning the world title. I have two beautiful kids and a lovely wife supporting me 100-percent. I'm Irish with a good record and I'd love to fight at Madison Square Garden next St. Patrick's Day. My Irish fans have always come out to support me. Hawkins is a good test for me in my first fight back and we're doing to take things one fight at a time.
"Goody is still may man and Irish painter Sean Scully is my inspiration. He's a 60-something old man I worked with on a documentary. He told me to follow my dream and don't give up. That's what I'm doing. I lost my hunger for boxing but now I have it back."
Got an Opinion? Submit Your Articles and Press Releases to be posted on Nowboxing.com
JOIN the NOW BOXING FORUM to discuss this and other boxing news topics (membership is FREE)