British boxing champion, Amir Khan, will defend his WBA junior welterweight tight on December 11, 2010 against Argentina's Marcos Maidana in Las Vegas, Nevada.
The fight was announced Thursday, Sept. 23 in London, England, by Golden Boy Promotions, who promotes Amir Khan. The fight will be Amir's at the Mandalay Bay Events Center in Las Vegas, it will be Khan's Vegas debut.
Khan is an Olympic silver medalist for Great Britain, and won his first title at 140 lbs when he defeated Andreas Kotelnik last year, Kotelnik holds a win over Maidana.
Maidana burst onto the boxing scene with his stoppage victory over the highly touted Victor Ortiz in 2009 at Staples Center.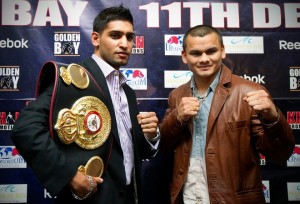 Photo of Khan and Maidana posing during their September 23, 2010 presser in London (AFP PHOTO / CARL COURT)
Khan hopes this fight will prove the critics wrong, by fighting the man that many consider to be the most dangerous fighter at 140 lbs, Marcos Maidana, and beating him. Khan's trainer Freddie Roach is currently in the Philippines preparing Manny Pacquiao for his fight with Antonio Margarito on Nov. 13, but will be back in the United States in time to help Khan develop a plan to defeat Maidana on Dec. 11.
*Please refrain from leaving any Racial, Profane or Derogatory comments*
Got an Opinion? Submit Your Articles and Press Releases to be posted on NowBoxing.com
JOIN the NOW BOXING FORUM to discuss this and other boxing news topics (membership is FREE)