The current UFC welterweight champion, Georges "Rush" St-Pierre, is in the Philippines to help promote the UFC (Ultimate Fighting Championship) in Asia.
The UFC plans on expanding their brand and organization to Asia in countries such as the Philippines and China.
According to a report by ABS-CBN, a Philippine news station, GSP as he is known by his fans, believes Floyd Mayweather Jr. doesn't want to fight Manny "Pacman" Pacquiao because Pacquiao is too much of a threat to his undefeated record.
"Knowing that Pacquiao is a big, big threat, he doesn't want to have that fight because he might have a lot to lose," St.-Pierre said.
GSP, who trained with Pacquiao's boxing coach, Freddie Roach, over the summer, believes that if Mayweather and Pacquiao fought tomorrow Pacquiao  would win the fight.
"I've seen Mayweather's last fight, he got rocked by (Sugar Shane) Mosley. I think Pacquiao is really untouchable right now. If they fight like tomorrow, I think Pacquiao would win," GSP told ABS-CBN.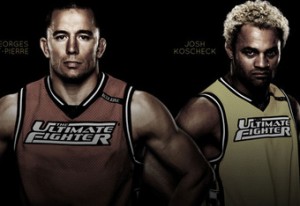 St-Pierre can be seen as a coach on TUF (The Ultimate Fighter)  season 12 alongside his upcoming opponent Josh Koscheck , the two will square off in a rematch  at UFC 124 in December (GSP beat Koscheck  at UFC 74 by unanimous decision).
*Please refrain from leaving any Racial, Profane or Derogatory comments*
Got an Opinion? Submit Your Articles and Press Releases to be posted on NowBoxing.com
JOIN the NOW BOXING FORUM to discuss this and other boxing news topics (membership is FREE)