Ultrachem TKO Boxing Gym
MARIANNE "GOLDEN GIRL" MARSTON Vs. LANA COOPER
Goodwin Promotions
"JUDGEMENT DAY"
York Hall, London – 4th December 2010
London – Wednesday 20th October 2010
MARSTON-COOPER SHOWDOWN SET FOR 4TH DEC LONDON SUPER SHOW
The highly anticipated Marianne 'Golden Girl' Marston versus Lana Cooper Featherweight clash, originally scheduled for September 11th, is now set to feature on Steve Goodwin's Super Show 'Judgement Day' at York Hall, Bethnal Green, London
on the 4th December 2010.
Marianne, who recently resumed her full fight training camp, which was suspended in August following the news that the planned September fight was to be rescheduled, at the Ultrachem TKO Boxing Gym in Canning Town, London, said of the news. "I was very disappointed when the September fight had to be called off, but that's life, now I am fully focused on the 4th December.
I know Lana will be up for it, she always comes to fight, but I'm at the best gym in London and have the best team in England coaching me so I will be 110% ready for her."
Marianne's team, manager Johnny Eames and coach Derek Grainger, are taking her preparations seriously and have top class sparring lined up for her over the coming weeks, including drafting in Big Brother star and highly experienced Welterweight campaigner Angel McKenzie as her main sparring partner.
Additional sparring with unbeaten Bantamweight Laura Norton, Olympic hopeful Lightweight Ruth Raper and Lana Cooper's previous opponent, Great Britain's number one Lightweight Laura Saperstein, will be added to the mix throughout November.
On the planned sparring Marianne said, "What a coup, Angel and Laura Saperstein have both fought Lana before. They know her style and I'm sure their experience and advice will give me an edge on the night.
I can't wait to start sparring with Angel again, we had some great sparring wars last year. I've also sparred Ruth before, she's a class act, but I've yet to spar either Laura Norton or Laura Saperstein, both are unbeaten as pros, so I'm really looking forward to sparring them.
With quality sparring like this I will be so ready for Lana. I can't wait for December 4th."
Marianne 'Golden Girl' Marston versus Lana Cooper will be supporting Yassine El Maachi defense of his International Masters Light Middleweight title, against the seriously tough France based Haitian Jimmy Colas at the Steve Goodwin promoted "JUDGEMENT DAY" double title event at York Hall, Bethnal Green, London on Saturday the 4th December 2010.
Co-headlining 'Judgement Day' will be Ryan 'Mr Attitude' Barrett who will be defending his newly won International Masters Lightweight title, against a yet to be named opponent.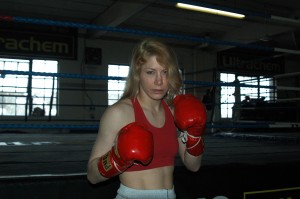 There are no less than twelve top class support fights including Marianne's Ultrachem TKO team mate 'Saint' George Jupp, against a yet to be named opponent.
'Saint' George, one of the rising stars from Johnny Eames' stable, has quickly established himself as 'one-to-watch' following his magnificent stylish performance against the highly experienced Pavels Senkovs back in September.
Fresh from his superb victory, over veteran Hastings Rasani, the highly popular Essex Cruiserweight Tony 'The Conqueror' Conquest will again be in action and looking to extend his unbeaten record against a yet to be named opponent.
Tony's gym mate, the highly entertaining Welterweight John Wayne Hibbert, will be making his welcome return to the York Hall. The Stetson wearing Hibbert is an all action fighter with a knockout reputation – four stoppage finishes in his six outings to date.
Waltham Abbey's Phil Gill, AKA 'The Experience', will be looking to increase his unbeaten record to seven, whilst Light Middleweight War Lord Michael 'The Zambezi Hitman' Norgrove will be looking to take his unbeaten record to four.
Bethnal Green's own Jamie Arlain gets his second outing, as is Islington's John 'The Gorilla' Ryder, who will be looking to emulate his stunning debut victory. So far Ryder has had just 90 seconds of ring action. That's right it took him just half a
round to beat the hapless Ben Denghani into submission.
Another single fight veteran with an early knockout record is Ely, Cambs Light Welterweight Tyler Goodjohn. His first victim, Dale Hutchinson, staying the course 264 seconds longer than Denghani did with Ryder.
Rounding out the show are three debutants. Super Featherweight Richard Hines, Light Welterweight Charlie Kelly and another of Marianne''s Ultrachem TKO Gym mates Super Middleweight Brett O'Callaghan.
Tickets for Judgement Day at the York Hall, Bethnal Green, London on Saturday 4th December 2010 are on sale now – priced £35 (Unreserved) or £60 (Ringside).
For tickets call: 07960 850645, book on-line at www.tkoboxoffice.com or in person at The Ultrachem TKO Gym, Gillian House, Stephenson Street, Canning Town, London E16 4SA.
*Please refrain from leaving any Racial, Profane or Derogatory comments*
Got an Opinion? Submit Your Articles and Press Releases to be posted on NowBoxing.com
JOIN the NOW BOXING FORUM to discuss this and other boxing news topics (membership is FREE)