ULTRACHEM TKO GYM ERICK 'THE EAGLE' OCHIENG
London – 12th October 2010
VALENTINE PULLS OUT OF OCHIENG REMATCH – RANDELL REPLACES ON OCT 16TH
Curtis Valentine has pulled out of the planned rematch with sensational Light Middleweight prospect Erick 'The Eagle' Ochieng on Saturday's 'True British Fighters', double title event, headlined by Sam Webb vs Martin Concepcion British
Light Middleweight title fight, at The Troxy, London E1.
Valentine's withdrawal has firmly shut the door on the mouthwatering prospect of an early repeat of their full scale war, back in may, in a bout billed as 'The Battle Of The Undefeated'. On that occasion the stylish Ochieng emerged victorious over the heavy hitting Valentine by a tidy 39-37 points margin.
With Valentine out of the frame promoter Frank Maloney has drafted in Tony 'TNT' Randell, an experienced domestic championship campaigner, having previously held both the British Masters Middleweight title and the BBBofC Midlands Area Middleweight title, which he lost to Matt Hainy on his third defense just ten days ago.
Following a training session, at the Ultrachem TKO Boxing Gym in Canning Town, the ever smiling Ochieng gave his view on Valentine's withdrawing, "It doesn't matter, There's another opponent already arranged. He pulled out of the fight, I don't know why, but he was gonna lose anyway. I mean I'm in top condition and I've improved a lot from my last fight.
I put on a good performance against Alex Spitko (Editors note: 4th round stoppage and voted Fight of the Night) You know, everyone liked the fight and you know what not a lot of people want to fight me now.
So I say it's all good, although the next fight is just a four rounder not the six I had planned for.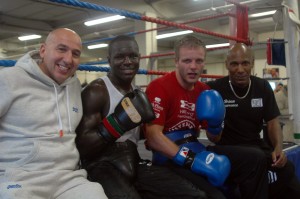 Photo credit – Gianluca (Rio) Di Caro
I don't know much about Tony Randell, but that doesn't matter I'm prepared. I leave no stone unturned. I'm ready, I'm ready. The Eagle is ready.
I'm gonna win it, if I stop him it's additional credit, if I put him away I put him away. I don't get paid for extra time. If he goes before four rounds so be it. Either way it's gonna be a win and I'm gonna make sure my supporters get their money's worth.
The Eagle is rising and I'm coming to rule."
Ochieng's manager/coach Brian Lawrence then added, "Yeah, they said it's because of work commitments.
I watched the fight again on DVD I thought he wouldn't be up for this fight. It's a hard match for him. I just couldn't see him taking Erick on in a six rounder.
Now we've got Tony Randell, you know he's a durable Middleweight. We're fighting at Light Middle. He's a good opponent for Erick and I'm expecting a good fight.
The downside is that it'll be four threes, whereas we wanted to push him up to six threes. On the night though we'll just take care of the business."
Erick 'The Eagle' Ochieng versus Tony 'TNT' Randell will be on the under card of the Frank Maloney promoted 'True British Fighters' double title show headlined by Sam Webb's defense of his British Light Middleweight title against Martin Concepcion.
Co-feature on the October 16th at The Troxy, Commercial Road, London E1, show is Jamie Arthur and Kris Matthew Hughes who will be battling for the vacant Commonwealth Super Bantamweight title.
The loaded undercard features, in addition to Erick 'The Eagle' Ochieng versus Tony Rendell, a heavyweight triple bill starring David Price, Tom Dallas and Damian Campbell plus Joe Hughes, Shane Enright, Lewis Pettitt, Ashley Sexton and Martin Welsh all against yet to be named opponents. The 'True British Fighters' card also features a Middleweight clash between Tony Hill and Kevin Concepcion.
Tickets for 'True British Fighters' at The Troxy, 490 Commercial Road, Limehouse, London E1 on Saturday 16th October 2010 are priced £35 (Unreserved) or £85 (Ringside).
For tickets call: 07960 850645, book on-line at www.tkoboxoffice.com or in person at The Ultrachem TKO Gym, Gillian House, Stephenson Street, Canning Town, London E16 4SA.
Gianluca (Rio) Di Caro
JustListen2This Publicity and Promotions
http://twitter.com/LucaDiCaro

www.justlisten2this.com
*Please refrain from leaving any Racial, Profane or Derogatory comments*
Got an Opinion? Submit Your Articles and Press Releases to be posted on NowBoxing.com
JOIN the NOW BOXING FORUM to discuss this and other boxing news topics (membership is FREE)