Freddie Roach has put a bounty on his prized pupils head; for any sparring partner who can drop or knock out Manny Pacquiao in sparring they will receive $1,000 dollars in cash. The challenge has been up for several years and according to roach and people at the Wild Card gym, no one has even come close to dropping the Filipino champion and winning the cash.
One man is looking to be the first to drop Pacquiao in sparring, that man is one of Manny's good friends and stablemates, Vanes Matirosyan — an undefeated 154-pound junior middleweight fighter who is also trained by Freddie Roach.
"I am up for Freddie's challenge. I will be the first to drop Manny," Martirosyan said.
Vanes and Manny have known each other for a long time, but the two have never sparred each other, that will change when Vanes flies out to the Philippines upon Freddie Roach's request to  spar with Pacquiao to help him get ready for his November 13 fight against Antonio Margarito.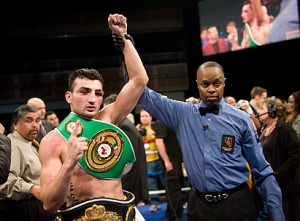 Photo: Vanes Matirosyan after his win over Kassim Ouma
"I respect Manny Pacquiao a lot and I have learned a lot from him. He is a great fighter but I feel I am up to the challenge, that is why I always say I want to fight the best. I want to prove how good I am. It doesn't get much better than sparring with Manny Pacquiao. I hope some of these other champions man up and accept my challenge." expressed Matirosyan.
*Please refrain from leaving any Racial, Profane or Derogatory comments*
Got an Opinion? Submit Your Articles and Press Releases to be posted on NowBoxing.com
JOIN the NOW BOXING FORUM to discuss this and other boxing news topics (membership is FREE)