By Coach "K" (SBB)
(October 30) Robert Joseph Guerrero born March 27, 1983 in Gilroy, California is a southpaw boxer with a serious punch in both hands. Robert joining the long line of Guerrero fighters joining his grandfather (boxed professionally in Texas), his father Ruben Sr. (a two-time Golden Gloves Champion) and his uncles into the fight game where he was joined by his brothers Victor, Ruben Jr. and Randy as amateur standouts.
Growing up watching his two older brothers, his uncles and his father workout in the gym it wasn't long before the young Robert would find himself in the squared ring.
Robert went on to put together a very impressive amateur record and as a young amateur his speed and illusiveness earned his nickname "The Ghost" a moniker that still carries its weight as a three time World Champion.
"The Ghost" won his first national tournament at the age of 15 winning the National Junior Olympics and qualifying for the 2000 Olympic trials. During the 2000 Western Olympic Trials held in Boise, Idaho "The Ghost" dominated winning the 119lb title and was voted the outstanding boxer of the ESPN-televised tournament.
Guerrero then entered the U.S. Olympic Trials in Tampa, Florida winning in the first round of the trials only to lose to Clarence Vinson who went on to win a bronze medal at the 2000 Olympic Games in Sydney. Robert then decided to turn pro and at the age of eighteen just out of high school "The Ghost" won a unanimous decision over Alejandro Cruz April 2001.
Guerrero then went on to run off eleven straight victories the last three by TKO before fighting to a technical draw March 2004 when veteran Julian Rodriguez was unable to continue after being hit on the break.
Robert met his wife to be Casey when they were fourteen and after becoming high school sweethearts they were married in 2005. The proud parents of Savannah Rose and Robert Jr; Casey was diagnosed with leukemia just after the birth of Robert Jr.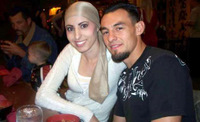 Robert began to find his power winning his next five inside the distance and developing the blistering uppercuts he is now so well known for. Robert then went on to win the NABF featherweight title December 2004 dropping and stopping Cesar Figueroa in four. "The Ghost" would go on to defend his title twice before losing his title in his only loss to date a split decision to Mexico's Gamiel Diaz December 2005.
Guerrero rebounded stopping the tough Mexican Sandro Marcos in three before squaring off in a rematch with Diaz. In the rematch a NABF featherweight title bout and WBC Featherweight Title Eliminator Robert floored Diaz never down as a pro twice in the first round finishing him in the sixth round with a heavy left to the body.
Winning back his title and the WBC eliminator Robert would meet Eric Aiken's September 2nd 2006 for his IBF Featherweight title. Guerrero used a pressure attack banging Aiken to the body breaking him down bringing the attack upstairs in the middle rounds battering the champion through the eighth round with solid left uppercuts and right hooks convincing Aiken and his corner to call it after eight.
Two months later "The Ghost" would defend his new title against Orlando Salido on the undercard of the Carlos Baldomir / Floyd Mayweather Jr. WBC, IBO, IBA welterweight title fight only to find himself invisible losing his belt giving a disappointing 115-113, 118- 110, 117-111 performance.
However after the post-fight urinalysis it was revealed that Salido was found to have tested positive for the banned steroid Nandrolone and he was subsequently stripped of the title and Guerrero would get a shot at the now vacant IBF title against Spend Abazzi, 35-1, 10Ko's on February 23, 2007 in Copenhagen, Denmark.
"The Ghost" rematerialized demonstrating the speed and power that won him the title ending Abazzi's twenty fight win streak dropping the Dane in the third and fifth rounds opening a severe cut around Abazi's right eye forcing the fight to be stopped in the ninth round and Robert reclaiming the IBF Featherweight Title.
Robert would defend his reclaimed IBF title later that year blasting out the rugged Mexican Martin Honorio in 56 seconds with a devastating straight left. About a week before the fight with Honorio, Robert found out his wife Casey had leukemia.
Guerrero would take only three months before making the second defense of his new title stopping "the All American Boy" Jason Litzau in eight.
Guerrero would vacate his title moving up to super featherweight meeting Edel Ruiz and stopping the tough Mexican in one round with a vicious body shot.
March 2009 "The Gilroy Kid" would challenge Daud Cino Yordan for the vacant WBO NABO super featherweight title but due to a severe cut (eventually needing plastic surgery) over his right eye caused by an accidental clash of heads in the second round leaving Robert unable to see the bout was stopped by the referee and according to California Boxing Commission rules and the bout not going four rounds the fight was declared a no contest. Some people questioned Guerrero's heart and courage but the young former world champion proved how smart he really is. Just days before the fight with Yordan, Guerrero learned that his wife Casey who has leukemia was in desperate need of a bone marrow transplant and there were no donor matches available. How's that for courage? Team Guerrero's challenged Yordan to a rematch, but the Indonesian fighter turned it down. What does that tell you?
Three months later Guerrero won an eighth round RTD over Efren Hinojosa when by the fourth round Hinojosa was bleeding from the nose and mouth. Guerrero was in control when in the seventh round Guerrero suffered a cut over his left eye from a clash of heads. In the eighth round Hinojosa claimed injury to his right elbow and the fight was stopped by the ringside physician.
Staying busy Guerrero challenged Malcolm Klassen in August for his IBF Super Featherweight title winning an impressive and decisive 117-112, 116-112,115-113 unanimous decision to claim the world title.
In February 2010, Guerrero vacated his Featherweight title bowing out of a fight with Australia's Michael Katsidis in order to care for his wife Casey who was suffering from a relapse with leukemia.
April 2010 after taking eight months off to be at his wife's side Guerrero returned to the ring moving up to the lightweight division stopping Robert Arrieta, 35-15-4, 18Ko's in the eighth round.
In his latest fight Guerrero moved up to the junior welterweight facing two time world champion Joel Casamoyor. Earlier in his career Guerrero worked as a sparring partner for Casamayor but this night the student became the master with "The Ghost" winning a 97-90, 98-89 times two unanimous decision despite hitting the deck in round ten.
Guerrero who has stated Jesus Christ his most admired person is a down to earth individual who loves cars and pepperoni pizza. He is highly disciplined and a very religious person. Trained by his father Ruben and Bob Santos he is well grounded and is a fighter in and out of the ring. Besides battling opponents in the ring he stands at his wife side through her plight with leukemia and has become a true champion in the fight against cancer with his "Knocking Out Leukemia" 8-Ball Pool Tournaments and Wine Tasting fund raisers.
Guerrero, 27-1-1, 18Ko's next fight in the ring is November 6th when he takes on fellow Californian Vincente Escobedo, 22-2, 14Ko's in a co-featured bout on Kathy Duva's Main Event's Zab Judah / Lucas Matthysse main event at The Prudential Center, Newark, New Jersey.
Vicente Escobedo, 22-2, 14Ko's a 2004 US Olympian is 13-1 in his last fourteen winning five by KO with the only loss a split decision to Michael Katsidas September 2009. He has recorded wins over Dominic Salcido and former world champions Carlos Hernandez and Kevin Kelley. Escobedo's only other loss was also a split decision back April 2006 to Daniel Jimenez. A win here for Escobedo could put him in line for that title fight.
It should be a very entertaining fight with all the toughness and discipline developed through his life experiences only magnifying Guerrero's obvious talent leading him to another big win bringing him a step closer to that fourth title.
Tickets are still available and are priced at $53, $78, $103 and $253 (ringside). They can be purchased at Prudential Center Box Office, by calling TicketMaster at 800-745-3000 or on line at www.Prucenter.com.
"The Ghost" The Documentary is in early production stages. It will cover Robert Guerrero's challenges after pulling out a scheduled fight with Australia's interim WBO lightweight champion Michael Katsidis to concentrate on his wife, Casey's, battle with leukemia.
The film covers the facts of life as it pertains to three time world champion Robert "the Ghost" Guerrero and his comeback for his fourth world title. It will cover the trials and tribulations of Robert assisting and dealing with his wife Casey's battle with leukemia while balancing a professional fight career. The film is produced by Robert's publicist, Mario Serrano, Rebecca Taff and is directed by Andrew Johnston together with Golden Boy Promotions director of photography Jeffrey Bell.
For more on "The Ghost" and boxing go to www.StrictlyBusinessBoxing.com
*Please refrain from leaving any Racial, Profane or Derogatory comments*
Got an Opinion? Submit Your Articles and Press Releases to be posted on NowBoxing.com
JOIN the NOW BOXING FORUM to discuss this and other boxing news topics (membership is FREE)