Ahead of his upcoming title defense BBBofC Southern Area Cruiserweight Champion Leon 'Solid' Williams has switched his training base to the Ultrachem TKO Gym in Canning Town following his recent signing with Johnny Eames to head up  his new training team.
The highly popular 27 year old from Streatham, who secured the Southern Area title after convincingly out pointing Walthamstow's JJ Ojuederie back in October, first came to national prominence following his magnificent performance on the highly popular Sky sports televised Prizefighter series.
In his quarter final match-up 'Solid' went to war with John Lewis Dickinson in what was undoubtedly the fight of the night. However after three close hard fought rounds the judges unanimously declared Dickinson the winner by just a single point, much to the dismay of the crowd who jeered and booed when the result was announced. Dickinson then went on to win the tournament.
Following one of his training sessions, under the watchful eyes of Johnny Eames, Leon explained why he decided to switch to the Ultrachem TKO team. "A good friend mentioned the gym to me. It's well established and John's a good trainer, so I thought I'd take it on board and come down.
I'm here now. I've only been here for a little while but what I have been doing is fantastic, I'm feeling  it in my body. I'm learning, which is the most important thing. There's structure, that's what I have been lacking the past few years, structure and I feel I can get that here so it's all good.
I'm not fussed who I'll have to defend my title against as I have a good team behind me right now so it's onwards and upwards."
Johnny then added,  "Leon came along with a guy I met from the charity run we did for Kevin Mitchell's nephew. I didn't really know the guy but he knew of me through boxing.
Obviously I'd seen Leon fight and I looked at him as just raw aggression, which is what he came to us with and we're gonna just polish up the finer arts.
He's a good trainer, he listens to what he's told. I think he's enjoying, no disrespect to anybody else but, being in what I'd term a proper boxing gym, we've good fighters in here and a good team around him.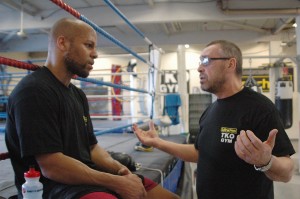 Although he's self managed I will be working with him to select fights, although the final decision will be down to Leon obviously, but hopefully he'll take my advice as within the year we could be knocking on the door of maybe the British title. The Cruiserweight division is pretty wide open. I certainly think he could win the English title right now and possibly the British, one step at a time though as we've got the Southern Area title to defend first.
I've got to get to know him first with fights, so we'll do one or two small fights first and get to know each other in the corner, so I know how he ticks and he knows how I swear and we'll go from there. It's good to have him on board."
Leon 'Solid' Williams will be defending his BBBofC Southern Area Cruiserweight title early in 2011 and should he be successful it's clear that his eyes will be set firmly on the English or British crown. Watch this space…
www.ultrachemtkogym.co.uk
*Please refrain from leaving any Racist, Profane or Derogatory comments*
Got an Opinion? Submit Your Articles and Press Releases to be posted on NowBoxing.com
JOIN the NOW BOXING FORUM to discuss this and other boxing news topics (membership is FREE)