By Gary Purfield
In this column I will be taking a look back at a retired fighter to examine his career or reviewing a great fight (or series of fights) in an effort to further mine and hopefully the reader's knowledge of a sport that is so rich in history.  Like baseball boxing is defined as much if not more by what came in the past than what is current or in the future.
The idea for this column came from trainer Freddy Marratto (I steal a lot of my ideas from him) when he told me to examine past fights from Ricardo Lopez for style tips and knowing I would like Lopez because I have a great respect for Juan Manuel Marquez and Nacho Beristain.  I had heard a great deal about El Finito but had seen very little of his work.  Thanks to the miracle of youtube that has changed.  I focus more on style and boxing ability than a history of his career but I would highly recommend checking out the wikipedia page listed below in the sources section if you are not familiar with Lopez's hall of fame career.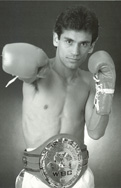 Final Record: 51-0-1 (38 KO)
Titles: WBC Strawweight, WBA Strawweight, WBO Strawweight, IBF Light Flyweight
Stance: Orthodox
Nationality: Mexican
Professional Career Span: 1985-2002 (inducted into IBHOF 2007)
Worth Mentioning: One of only five world champions in the gloves era of boxing (depending on what list or titles you use) to retire undefeated (Rocky Marciano, Sven Ottke, Harry Simon, and Joe Calzaghe) and tied for record of most  consecutive title bouts without a loss (26).
Before legendary trainer (and soon to be inducted into the IBHOF) Nacho Beristain had Juan Manuel Marquez there was Ricardo Lopez.  A puncher of such seemingly effortless precision it was easy to miss the knockout shot that quickly ended fights.
Lopez was a classic master boxer.  Like any "boxer" the jab was a primary weapon as a range finder, setup for bigger shots, and a damaging weapon on its own.  Always with his body in the sharp slanted stance, left shoulder pointed at the opponent and chin tucked he left virtually no openings in his defense.  Lopez was also perfect in his technique below the waist with a balanced stance and light on his toes.  He would circle to either side or move in and out with precision to do the obvious but not easily accomplished goal of hitting without getting hit.
While he had power in both hands the high knockout percentage (75%) was more a product of pin point accuracy with his punches.  What was also amazing was when he landed the knockout shot he left opponents out cold or wobbled to a point of having no chance to continue.  There was nothing subtle about when Lopez finished the fight.
In the clip below at 29 minutes and 12 seconds (again in slow motion at 30:05) Lopez lands a lead left uppercut that does not appear overly powerful but his ability to generate power with short punches that were accurate leads to his opponent hanging dazed in the air for a split second before collapsing to the canvas with no hope of getting up (don't blink or you will miss the shot landing).
http://www.youtube.com/watch?v=ppXov9Dqwmk
With so many skills and tools it is hard to say what would be Lopez's best asset but I would have to go with his combination punching.  At times he would use the jab as a stick or throw a single uppercut but often Lopez was a combination puncher.  He has the skill that so few fighters seem to have of throwing combinations with the same hand such as left jab-left uppercut-left hook (then again this technique is often used by JMM so the common denominator being trainer Nacho has some influence).  Lopez threw varying three and four punch combinations from various angles while never sacrificing defense by using body movement and transitioning the non-punching hand into his guard.  Notice in the clip below the knockout comes with a precise jab, cross, and perfectly placed left uppercut (Lopez was so well trained that this was actually a four punch combination he finishes, as you will notice he follows the left uppercut with a left hook but his opponent is already floored as the hook sails into air).
http://www.youtube.com/watch?v=tWSEeLpVxCY
Lopez's defense was near flawless due to his practiced technique.  El Finito was not someone who had supernatural speed or athleticism such as a Roy Jones so he relied on classic boxing skills to avoid getting hit.  Lopez used his feet to move in and out in addition to a high guard for the head, elbows tucked in to protect the body, and chin tuck.  None of he assets ever got lazy to allow for easy openings.  Lopez had the natural instinct to see a punch coming, slip or weave, and then make his opponent pay for the miss with his counter punching skills.  Watch in the knockout highlight reel below how many of the KO's occur while Lopez seems to simultaneously slip a punch while landing his counter shot that knocks his opponent into sleepy time.
If you were not familiar with Ricardo Lopez I hope I this provided you an introduction into one of the great fighters of the lower weight classes or any division.  I would encourage you to get on youtube and watch the many highlights and several full fights that are available (they are almost exclusively not broadcast in English but it won't matter as you can watch El Finito's brilliance without someone telling you what is happening).  I highly recommend the fight vs. Ala Edito Villamor (first clip above) because it shows all of his abilities over an eight round fight where he wears his opponent down and finishes with a spectacular knockout.  If you were already well versed in the history of this Mexican legend than maybe this was a nice summary of what you already know.
Question, comment, agree, disagree, or anything at all, send it to gpurf3@hotmail.com
Sources
http://en.wikipedia.org/wiki/Ricardo_L%C3%B3pez_(boxer)
http://boxrec.com/list_bouts.php?human_id=521&cat=boxer (visit this site at your own risk, boxrec is great for finding history and records but they are often criticized for having viruses)
http://www.worldlingo.com/ma/enwiki/en/Ricardo_Lopez_(boxer)
http://www.boxingscene.com/forums/showthread.php?t=225357
Got an Opinion? Submit Your Articles and Press Releases to be posted on NowBoxing.com
*Please refrain from leaving any Racist, Profane or Derogatory comments*