Ilford Amateur boxer Umar Sadiq started the year in knockout fashion last week, by winning the 81kg class at the British University and Colleges 2011 Championships held at the Coventry University Students' Union facility.
23 year old Umar secured his place in Sunday's final in stunning fashion, after knocking out Northumbria's Chavez Pattison in just 42 seconds of the first round. Umar then followed this feat up in the final, against Coventry's Alex Mellor, with a second round stoppage finish.
The perfect start to his season came at just the right time as Umar will be taking part in the ABA North East London championship, which are held in Hainault, Essex, and start this coming Thursday.
Umar, who fights out of Repton Boxing Club, spoke about his Golden performance following a work out session at the Ultrachem TKO Gym in Canning Town, "It's the second gold I've won, I've been quite inactive. The last competition I was in was the novices, but I got beat in that. I was a Middleweight, struggling to make the weight. Before that I was in the Haringey Boxing Club competition and I got Gold in that.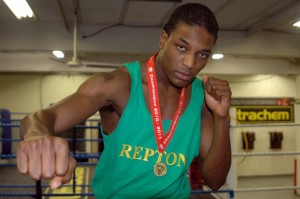 I got a bye to start with then two fights, the semifinal and the final. In the semi-finals I stopped the opponent in 42 seconds and in the final I countered the guy in the first round and stopped him in the second.
Obviously those opponents will not be the same level as I'll be facing in the ABAs later this week. It's confidence boosting stuff, but I'm not going to let it get to my head and think that I'll stop people. I'll go out there and try and box my way to victory.
Hopefully now I'll be a bit more active since I've moved to Repton. I'm a lot stronger at Light Heavyweight. I've put a lot more work on in the gym. Good things to come hopefully."