Sensational Middleweight prospect Joe 'Belfast Banger' Hillerby is set for his first home town fight this coming Saturday, on the Graham Earl promoted 'Fists of Fury' event, headlined by WBU Lightweight World Champion Willie Limond, at the King's Hall in Belfast.
Hillerby, who debuted in October 2010, has made quite an impact on the scene. No surprise really, after all he is an all action heavy hitter with a knockout finish, as proved on his debut against Gavin Putney, which lasted just 43 seconds!
His second fight, against super tough Ryan Clark, lasted the full course and turned out to be one of the most action packed fights of the night at Graham Earl's excellent 'Capital Punishment' event at York Hall in London back in January.
The normally fast starting Clarke seemed a little more cautious than normal, which allowed Hillerby to easily take the first couple of rounds by forcing the pace throughout.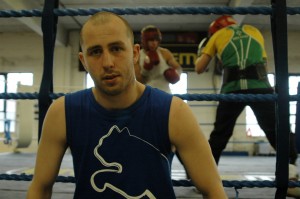 Round three see the real Ryan Clarke emerge. Normal service is resumed as Clarke starts letting rip with heavy hands. Hillerby is made of sterner stuff though, standing his ground and trading with equal venom. Much closer round but Hillerby still gets the nod and is set for a good win.
More of the same in fourth with Clarke throwing everything but the kitchen sink in an effort to stop the advancing juggernaut known as the 'Belfast Banger'. No surprise that Hillerby came out the winner in this one.
Following a sparring session, at the Ultrachem TKO Boxing Gym in London, Hillerby poke briefly on his upcoming home debut, "I'm really looking forward to it, I can't wait I'm buzzing for it.
My last fight was a cracker. It was good fight. I had family in supporting me so it was good to win.
This'll be my first pro fight in Belfast, I fought in Northampton for my first fight and York Hall my last fight. Ticket sales are flying so it'll be a cracking night.
I'll be going all out for the win, put power in every shot. It'll be a great night and I'll get another good win, at home."
Joe 'Belfast Banger' Hillerby, against a yet to be named opponent, will feature on the undercard of Graham Earl's 'Fists of Fury' at King's Hall, Belfast on Saturday 2nd April 2011.
Headlining the show will be WBU Lightweight World Champion Willie Limond, against a yet to be named opponent.
Graham has put together a superb undercard featuring the cream of local talent and includes the long awaited showdown between Tommy Tolan and Phil Townley. Another explosive local needle match sees Damian Taggert finally come face to face with Paddy McGarrity.
Sensational unbeaten Light Welterweight prospect Terry Holmes is set to travel to Belfast for the first time to face a yet to be named opponent.
Belfast boys Ian Boyd and Michael McLaughlin will be looking to get the first win under their belts in front of a home crowd, whilst local lads Sean Montgomery, Paidrag McCrory, Mark Morris and Mark Ginley will all be making their pro debuts on the 2nd April.
Tickets for the Graham Earl Promoted 'FISTS OF FURY' event at the Nugent Hall, King's Hall, Belfast on Saturday 2nd April 2011 are now on sale and priced £35 (Unreserved), £40 (Outer Ringside) or £50 (Ringside).
For tickets book on-line at www.tkoboxoffice.com or contact local fighters. For further information call TKO Box Office on 07960 850645