By Gary Purfield
Three minutes into round one it was over.  Not from a punch of any kind but an odd event even for a boxing match.  Odlanier Solis's opportunity to become the first Cuban heavyweight champion came to an abrupt end when his right leg apparently gave out on him. Vitali Klitschko was advancing towards Solis when he seemed to bend low and fell onto his back.  Solis struggled to his feet but once he was standing he could not walk or stand with any balance on his legs.  Referee Guadalupe Garcia called the fight off to the disappointment of Klitschko, the fans in the arena in Germany, and anyone watching.
Officially it was ruled a knockdown and knockout win for Klitschko now 42-2 (39 KO) but this was hardly a knockout Vitali will want on his highlight reel.  What really happened with the former amateur star and Olympic gold medalist Solis 17-1 (12 KO) is very unclear and will be open to a great deal of opinion and interpretation.  Lennox Lewis who was doing color commentary speculated that Solis had a previous injury that he hid and came up on him during the fight.  Dan Rafael of espnboxing who was doing in studio commentary agreed with Lewis that Solis likely had a previous injury.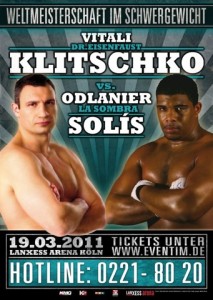 Round one was basically a feel out round for both fighters.  Solis did look half decent in the round especially in comparison to previous opponents of the giant Vitali.  Klitschko fought in his usual style moving forward with both hands down, using the jab and right hand, and using his footwork with his step back defense.  Solis's early game plan was to use lateral movement and make moves to land counter punches while getting to the inside of his taller opponent.  Solis landed several left hooks and overhand rights in the round.  None of the punches did serious damage but the fact that he landed at all is an improvement over other Klitschko opponents considering how Vitali has utterly dominated everyone since coming out of retirement.
In the end it was an extremely disappointing outcome to a fight that many hoped would be the first true challenge to a Klitschko brother in a long time.  Boxing fans are hungry for a big time exciting heavyweight title fight and this simply did not deliver.  What happens for either fighter going forward will be very interesting. If this was a legitimate in ring injury does Solis have right to a rematch once he is healed or does he get in line behind other heavyweights.  He will probably have to wait at least some time because the Klitschko brothers have contracts to face David Haye and Tomasz Adamek before the end of the year.
Question, comment, agree, disagree, or anything at all, send it to gpurf3@hotmail.com
Got an Opinion? Submit Your Articles and Press Releases to be posted on NowBoxing.com
*Please refrain from leaving any Racist, Profane or Derogatory comments*