By Gary Purfield
In 2006 Belarus native Sergei Liakhovich defeated Lamon Brewster to win the WBO heavyweight title.  Liakhovich was a heavily touted contender following an outstanding amateur career that included representing his home country in the 1996 Olympics and winning a bronze medal in the 1997 World Championships.
Liakhovich survived a knockdown against Brewster to outlast the tough champion in route to winning a unanimous decision and the WBO title in his twenty fourth fight.  But as fast as a top contender can reach the top the fall can be just as fast.  Liakhovich would lose the title in his first defense to Shannon Briggs by twelfth round TKO.
Following the loss to Briggs in 2006 Liakhovich would be placed on the shelf not fighting at all in 2007. He fought once in 2008 losing a decision to Nicolay Valuev and once in 2009 defeating Jeremy Bates by first round TKO.  Liakhovich has fought once in 2010 with a ninth round KO of Evans Quinn.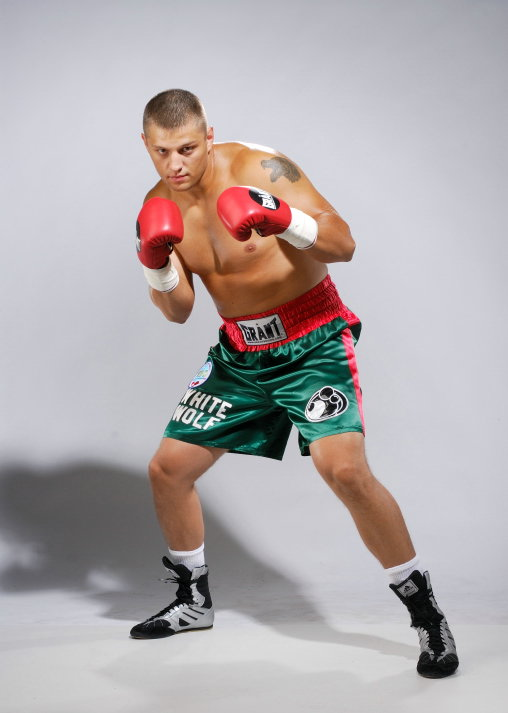 "It was very frustrating," Sergei said. "I tried everything but my promoter didn't get me fights. My new advisor, Tony Cardinale, did an awesome job getting me out of that contract. I then signed a promotional contract with Main Events because I saw what they've done with Adamek and other fighters."
Now partnered with Main Events as well as being trained by Tommy Brooks and Kenny Weldon the man known as the White Wolf looks to get active and get back to a title shot.  His return begins on the undercard of Main Events top attraction Tomasz Adamek's fight April 9 against Kevin McBride.  Liakhovich will be taking on Jonnie White 22-4 (18 KO) in a ten round bout.
"I took my next fight against White because everybody knows I don't want easy fights. He has good power. He's a tough guy who is capable of taking you out in a second. This is the opponent I want in the ring to prove to myself and everybody else that Sergei is here and will win the world title again. That's what this is all about – fighting again for the world title."
The heavyweight division offers a double edge sword to a fighter with Liakhovich's talent.  Getting to the title shot in today's heavyweight division may be a faster path than in any time in the history of the sport due to the lack of top notch talent amongst the big men.  The other side of that blade is that actually acquiring a title goes through one of the giant Ukrainian Klitschko brothers who have had a python's stranglehold on the division for several years and show no signs of letting go their titles.
Adamek will look to accomplish that feat later this year assuming he gets by McBride.  Liakhovich has signed on with Main Events with the idea that they will keep him active like they did Adamek for several years and maneuver him into a title opportunity.
Tony Cardinale commented "We need to keep Sergei active. He'll fight April 9th and again in July and September, after which we hope to get him in a world title shot. Sergei is 6-4, 240 pounds and he can box and bang, too. He has great boxing skills he learned from his Russian background when they started teaching fundamentals to kids. He's tall, smart and has fast hands. His fight against Brewster was incredible. He had to get up off the mat to win and he was doing that to Briggs when he got caught at the end. Sergei Liakhovich has everything it takes to challenge and beat the Klitschkos."
Liakhovich will get his wish staying active and getting the chance to move his way up the ladder towards a title shot.  The question will be can he overcome the monstrous obstacle of the K brothers or will he fall victim like so many challengers have to the heavyweight champion duo of Wladimir and Vitali.
Liakhovich training camp video

Question, comment, agree, disagree, or anything at all, send it to gpurf3@hotmail.com
Got an Opinion? Submit Your Articles and Press Releases to be posted on NowBoxing.com
*Please refrain from leaving any Racist, Profane or Derogatory comments*