Slough's Ian Bailey is set to face Mansfield based Latvian Pavels Senkovs at the Graham Earl, in association with TKO Boxing Gym, promoted 'Return of the Mac' event at Tattersalls Sales Rooms in Newmarket on Saturday 30th April 2011.
Bailey, who campaigns in the Super Bantamweight division, will be looking to reverse the run of losses incurred during the 2010 season. Saying that each fight last year were taken at very short notice and was against high flying unbeaten prospects Ryan Walsh, Carl Frampton, Kid Galahad and Michael Walsh.
Bailey is well known for his willingness to take on the best, even with just a few days notice, and that he always comes with the intention to fight for a win. So no surprise that when a prospect needs a stern test Bailey is called upon to provide it.
For those that see Bailey's scintillating bout against Belfast's Carl Frampton in June last year will understand this better than most. Throughout the bout Bailey pushed forward and tested his highly rated opponent, who is touted as a future World Champion by no less than former World Featherweight Champion Barry McGuigan.
After six all action rounds the King's Hall crowd gave both fighters a standing ovation, not something you would normally expect from such a partisan crowd.
Frampton's manager and mentor Barry McGuigan also complimented Bailey's performance when he told the assembled media, "I thought it was absolutely ideal. It was six hard rounds and I knew that the kid wasn't going to make it easy for him and that's what he needs to do. Bailey was strong and had a tight defense."
The 'Return of the Mac' event will be Bailey's first fight, in six, that he has had more than just a few days to prepare for and also gives him his first 'house fighter' start since he faced Sid Razak in November '09, which coincidentally was also at Tattersalls in Newmarket.
To prepare for the 30th April show Bailey has been regularly sparring former European Bantamweight Champion Ian 'Dappa' Napa at the TKO Boxing Gym in Canning Town, London. The quality of sparring, and the rare opportunity to have four weeks to prepare for a full four weeks, are having a positive effect on young Bailey as is clear when he spoke earlier about the upcoming fight. "Yeah, looking forward to it, back in fight training, although I'm always ready and super fit so all's good.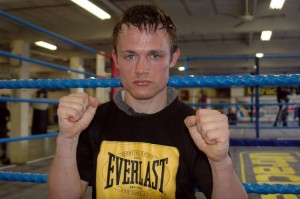 Been sparring with Ian Napa, which is always good and brings up my fitness levels. I'm not one hundred percent sharp yet, but getting there.
I'm looking forward to getting back to winning ways, after a bad year last year. I made a promise to myself that this year I'm not going to take fights at short notice just because of financial problems last year like I did. I don't care if that means that this year I'll only do two as I'm only taking fights if I get four or six weeks notice.
On short notice fights sometimes you may get one that's close, but all that does is make you think if I had the eight weeks notice the other guy had I'd have won it. That's the trouble that you end up getting a journeyman record, I'm not a journeyman so I aint going to let that happen.
Fighting is what I do, I love fighting and I'm going to put on a really good show on the 30th."
Ian Bailey versus Pavels Senkovs is the main support to 'Phat' Pat McAleese versus AA Lowe, which headlines the Graham Earl, in association with Johnny Eames' TKO Boxing Gym, promoted 'Return Of The Mac' Event at Tattersalls Sales Rooms in Newmarket, Suffolk on Saturday 30th April 2011.
Also on the show is another of Bailey's TKO Gym mates, Cheshunt's exciting, unbeaten in seven, Welterweight Bobby Gladman, who takes on the highly experienced Matt Scriven from Nottingham.
Ipswich Super Middleweight debutante Henry Bacon gets his first professional outing against New Milton, Hampshire's 'Dangerous' Danny Goode.
Further bouts are expected to be announced later this week.
Tickets for the Graham Earl, in association with TKO Boxing Gym, Promoted 'Return Of The Mac' event at the Tattersalls Sales Rooms in Newmarket on Saturday 30th April 2011 are now on sale and priced £30 (Unreserved) or £50 (Ringside).
For tickets call: 07960 850645, book on-line at www.tkoboxoffice.com or call in person at The TKO Boxing Gym, Gillian House, Stephenson Street, Canning Town, London E16 4SA.