By Gianluca (Rio) Di Caro
Back in the early 2000s there was a real buzz around the British amateur boxing scene, there were some excellent young fighters coming through the ranks with serious championship potential, none more so than a particular pair of teenage buddies from London, Michael Grant and Kevin Mitchell.
A month or so ago I was fortunate enough to interview Kevin, earlier this week I caught up with Michael, at the TKO Boxing Gym in Canning Town, and had an interesting chat with him. However before I move on to the interview with Michael here is a rundown on his career to date.
Both Michael and Kevin won multi titles, including the coveted ABAs, so it was no surprise that big name managers and promoters were keen to sign them to the pro ranks. Kevin was the first to turn over, signing with Frank Warren in 2003, and start an illustrious career that has seen him undertake thirty two bouts, during which he netted the British and Commonwealth belts as well as the IBF and WBO Inter-Continental titles and a shot at the interim WBO Lightweight crown.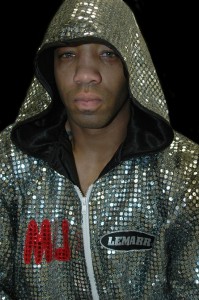 Michael's career on the other hand took a massively different course. Turning pro is 2005 MIchael signed with a manager who 'promised him the earth' but instead delivered a mix of four and six round Dinner and small hall shows for a couple of years.
Just one year into his pro boxing career it looked like his dream was doomed to end prematurely due a serious dislocation of his shoulder, which required open surgery, sustained during his fight with Ceri Hall in October 2006
In 2008, having fully recovered from the injury, Michael signed management papers with Johnny Eames and switched his training to Johnny's excellent TKO Boxing Gym in Canning town.
On the 24th September 2008, Michael returned to the ring against Jay Morris and put on a superb boxing display to get the win and at last Michael's career finally started moving in the right direction.
Just a few days after the fight with Jay Morris, straight talking Johnny Eames told SecondOut.com's Danny Coyne "I keep on saying it but Michael Grant is probably one of the best fighters I have trained and I have trained the likes of Graham Earl and the brilliant Kevin Lear over the years." something Johnny still says to this day.
Just a few weeks later, the world got to see that Johnny was true to his word as Michael was world class as he plain out boxed #15 ranked Gary Reid to secure victory at the O2 Arena, on the undercard of David Haye's Heavyweight debut against Monte Barrett on the 15th October 2008.
Things were definitely heading in the right direction for Michael, he'd beat a quality opponent on a major televised show.
In his first fight in 2009 another quality opponent was lined up, France's top 5 ranked Christopher Sebire. As before Michael's performance was scintillating and earned him a close 58-57 points victory.
Next up for Michael was an appearance in the ever popular Prizefighter series. Unfortunately for Michael disaster struck, an accidental clash of heads in the first round caused a deep cut over Michael's left eye. Michael was able to continue but the cut worsened considerably in the third round which concerned referee Ian John-Lewis enough for his to stop the fight with 48 seconds remaining on the clock.
On the 12th February 2010, just one day before his best friend Kevin Mitchell had his eleventh title fight, when Kevin defended his WBO Inter-Continental Lightweight title, Michael took part in his first title fight of his pro-career, against Steve Williams the vacant English Light Welterweight belt.
After ten, very close, hard fought rounds the judges scorecards were read out showing a 95-96 and 94-97 (twice) victory for Williams. Michael found it hard to hide his disappointment and decided to take a little time away from the sport to consider his options.
Having a new found hunger for the sport Michael returned to training in earnest late in 2010 and is set to return to the ring on the 7th May at Graham Earl's 'Redemption Day' double title headlined event at York Hall in London's Bethnal Green.
Now we're up to date on Michael's career I'll move on to the interview.
Rio – Hi Michael, Thank you for taking the time to talk with me today. Firstly could you tell us a little about your excellent amateur career?
Michael Grant – I won the ABAs in 2005. I'd got to the finals twice and the quarter finals before, which I thought I was robbed. I thought I should have been a four time ABA champion but that's why I hated, no not hated because I did eventually become champion and I boxed for England. I boxed in South Africa, in Italy, Malaysia and quite a few countries.
In that sense it made me who I am today as I got the experience of fighting in different countries and I won the ABAs which was the highlight of my amateur career.
Rio – You are to campaign in the Lightweight division, throughout your pro-career you've been a Light Welter, what prompted the change of division?
Michael – In the last year as an amateur I was Light Welter, before that I had always been a Lightweight. The last bit of my amateur career I found it hard to make the weight, because obviously I like eating the chicken and stuff.
I was finding it a bit harder, then I was feeling a bit stronger at Light Welter as I was eating literally what I wanted and I was making the weight. But I was actually a Lightweight, I was Lightweight for a good seven years before I was at the ABAs, so I've naturally been a Lightweight.
Rio – Do you think the change of division will be more to your advantage?
Michael – The guys were bigger than me at Light Welter, now I'm likely to be the bigger at Lightweight. That's the advantage, that's what I can't wait for because I feel strong now, stronger than I did at Light Welter and the guys I'm going to be fighting will be around the same size or even smaller so I've got a good advantage. I'll be coming back as a strong hot prospect.
Rio – Your last fight at Light Welter was for the English title, are you looking to get back into championship contention as soon as possible?
Michael – At Lightweight I'm looking to go all the way. Johnny's (Johnny Eames) has got me this fight, which was like lastminute.com, I just can't wait to get back in there. I might not be fighting for much money but I'm just trying to get into the top ten Lightweight so Im happy to take any fights.
By the end of the year I want some kind of title, British title as soon as. I've seen the person that's got it and I'll smash him to pieces. I'm going to be straight this year is going to be an exciting year and next year even better.
Rio – You were unfortunate in that your last two fights ended in contentious losses for yourself, what are your thoughts on these?
Michael – Both my losses as a pro could have been avoided. My last one for the English title, looking back at it, I could have done more to make it more convincing.
The Prizefighter now I look back on that I don't think really that was for me but I went in it and I thought I was winning until the referee stopped it.
I'd got the cut in the first round and the referee stopped it in the last minute of the last round, a bit dodgy there I thought. Yeah and it left a nice scar on my face.
Rio – Your back here at the TKO Boxing Gym now, there's a lot of quality fighters here for sparring. Who have you been sparring recently?
Michael – When I first come back Colin (Lynes) was fighting so I did a few rounds with Colin. I've also been sparring with a couple of people from the gym, Sam (Standing), Ricky (Boylan) and in time I'll be sparring with Kevin (Mitchell), my pal Kev I'll be sparring with him 'cos he'll be fighting soon as well. I'll be helping him and he'll be helping me.
Yeah there's always good sparring. That's the best thing about being down here there's always good sparring, even Lightweight or Light Welterweight. You've got Pat (McAleese) as well, I've been sparring with him, he's heavier, he hits a lot harder. There's all different type of sparring here, it's great.
Rio – How has the time out affected you?
Michael – The time out I think was the best thing I could have done. Sometimes it can be the worse thing to do, but I think it is the best thing because that hunger's come back, it's come back with a vengeance.
I had a lot of things in my life that was there before, what shouldn't have been in there that was distracting me and that's all gone so I've got a career ahead and I'm a hundred and ten percent on my game this time and I'm going to make sure that everyone knows I'm back properly.
Rio – For people that have yet to see you fight how would you describe yourself?
Michael – I just see myself as…Quick and hard to hit, well I try to be hard to hit and quick. I'm in and out and I've developed some power. I'm going to be a lot stronger. I aint going to be always bang, bang, bang and off, I'm going to be standing there a lot more and looking to take people out.
Rio – Of all your career fights, both as a pro and amateur, which holds the fondest memories?
Michael – My favourite fight was when I was boxing for Finchley, I think it was in 2000 or 2001, and we boxed in Las Vegas. I boxed Julio Caesar Chavez's nephew, I didn't know at first who I was boxing. On the day I came out first obviously as the away fighter. All of a sudden all these cameras came out of nowhere, people cheering, lights going and then music come on, you don't normally have music on an amateur show.
I looked at my corner and John Oliver, my coach, he was laughing and said 'I didn't want to tell you, but you're fighting Julio Caesar Chavez's nephew.'
I didn't mind anyway and I looked down and there's Julio Caesar at ringside watching, so that was an experience. Yeah I won as well so it was really special and I got the experience of fighting a Mexican which was good.
Rio – Thank you for talking with me today – finally is there anything you want to say to the readers
Michael – Watch out for me it's gonna be a hell of a year.
I have to say that I agree with part of that last comment, the watch out for him part. As I had said in the build up to the interview Michael is an exceptional talent and with his new hunger as well as the maestro Johnny Eames orchestrating his career you can be sure that it is only going to be a very short time before Michael will be challenging for titles, both domestic and on the World scene.
Michael's return to the ring, and his first professional bout as a Lightweight, will be on Graham Earl's 'Redemption Day' event at York Hall on Saturday 7th May 2011 – which is co-headlined by Leon 'Solid' Williams versus Danny Couzens for the Southern Area Cruiserweight title and Paul Morby-Daniel Cadman II – the rematch – also for the Southern Area title, this time the Super Middleweight belt.
Between the three top bouts and a top quality, properly matched, undercard this is without doubt a don't miss event – so don't miss it, you'll regret it.
Tickets for 'Redemption Day' event at the York Hall, Bethnal Green, London on Saturday 7th May 2011 on sale and priced £35 (Unreserved) or £60 (Ringside) and available on-line at www.tkoboxoffice.com or call in person at The TKO Boxing Gym, Gillian House, Stephenson Street, Canning Town, London E16 4SA. For further information call 07960 850645.