By Gary Purfield
The first fight between Giovanni Segura and Ivan Calderon was a thrilling eight round slugfest that resulted in the Ring Magazine's fight of the year.  The second time around will not be considered for the same distinction.  The only similarity was the result as the bigger and stronger Segura was able to overwhelm the boxer Calderon to a stoppage.
Calderon boxed well in the first two rounds and may have won both frames.  Despite that it was clear Segura who walked through Calderon's punches would not be deterred as he pressured, chased, and attacked Calderon with his typical relentless nature.  Segura who struggled to make 108lbs appeared to be far taller and simply a much larger man than Calderon.  In round three Segura was able to trap Calderon on the ropes and rip the body.  Once that happened the result was inevitable.  Segura landed multiple body shots and then one on the chin sending Calderon to a knee where he would be counted out.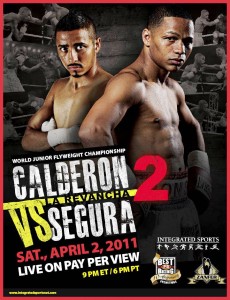 The official end came by knockout at one minute and thirty one seconds of round three.  Segura now 27-1-1 (23 KO) remains WBO and Ring Magazine junior flyweight champion.  Segura may vacate the belts to move up to flyweight at 112lbs.  His struggles to make junior flyweight limit of 108lbs were well documented and the time has probably come for him to begin moving up the ladder.
Segura's berserker style attack and lack of care for any form of defense makes for exciting fights.  How he handles someone with power at the higher weight classes will determine how far he goes.  He is already being placed on may pound for pound lists.
Calderon suffers his second defeat both to Segura dropping to 34-2-1 (6 KO) and likely will have to at least consider retirement.  The once elite boxer has lost a step and probably will not be able to compete at the elite level.  Calderon has nothing to be ashamed of as he is one of the best pure boxers the sport has seen and has had a remarkable career.
Question, comment, agree, disagree, or anything at all, send it to gpurf3@hotmail.com
Got an Opinion? Submit Your Articles and Press Releases to be posted on NowBoxing.com
*Please refrain from leaving any Racist, Profane or Derogatory comments*