By Gary Purfield
This coming Saturday May 21, 2011 at 1:00pm a statue of great Philadelphia Middleweight Joey Giardello will be unveiled at S 13th St and Mifflin St and E Passyunk Avenue in South Philadelphia.  The statue honors the former middleweight champ as well as many other past Philly fighters.
As a relatively young boxing writer (32) I knew little more than what I had heard from others about Giardello.  So as someone with an interest in the history of this sport and learning about the statue I began researching everything I could including speaking with family and friends from South Philly that were around during Giardello's time.
The first piece provided a brief  history of Giardello and background as a Philly middleweight.  This second piece will take an in-depth look at the much debated fight with Ruben "Hurricane" Carter where despite what the movie depicted Giardello won a hard fought decision over the aggressive young challenger.  The third will provide details for the statue project.
Part 2: The truth of Giardello vs. Hurricane Carter
On December 14, 1964 middleweight champion Joey Giardello of Philadelphia put his titles on the line against Ruben "Hurricane" Carter of Patterson, NJ at Convention Hall in Philadelphia.  It was a classic matchup of the older experienced fighter in Giardello taking on the young, strong, hungry lion in Carter.  It turned out to be an excellent matchup where the KO artist Carter used his strength and power to control the early rounds but the veteran guile and grit of Giardello took over late in the fight to edge out the challenger and retain his title.
Unfortunately this fight would be marred years later in the film "The Hurricane" that was released in 1999.  In the movie about Hurricane Carter's life an early scene depicts the fight in an inaccurate fashion where Carter dominates Giardello beating him into a bloody mess but then is robbed of the decision in a racially motivated effort to assist Giardello. The following breaks down the fifteen round battle between these two fighters to more accurately analyze a sensational fight and honor former champ Giardello in the lead up to his statue dedication this Saturday May 21 (see below for full details on Saturday's events).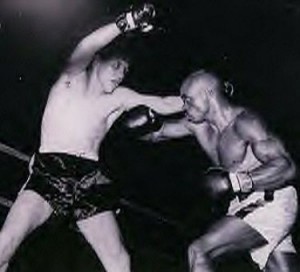 Understand in no way am I looking to do a dishonor to Ruben Carter.  I have all the respect and sympathy for a man that was a phenomenal boxer and had to endure a terrible tragedy being sent to prison for a murder he did not commit.  This article is simply to discuss Giardello as a fighter in a well-known bout.  Other than that scene I enjoyed the movie the Hurricane and I feel it is a shame the writers, producers, etc. saw fit to have such an inaccurate scene to dramatize the movie.  The fact is the story and tragedy of Carter needed no fictional drama considering the man spent over twenty years in prison for a crime he did not commit and only through his and others efforts was the record set straight years later.  That story needs no additional fluff.  Now on to the middleweight title fight on December 14, 1964 from Philadelphia.
The stage was set for a crossroads middleweight fight during a time when the middleweight title was a marquee sports achievement in America.  Joey Giardello had spent fifteen years as a pro trying to earn his title shot the hard way.  He had his share of ups and downs but finally got his opportunity after defeating all-time great Sugar Ray Robinson to become the number one contender.  He then defeated champion Dick Tiger in December of 1963 to become the middleweight champ.  By this point in his career Giardello was a veteran of one hundred and twenty seven fights giving him ring smarts and experience that was difficult to match.  Giardello could counter punch with the best of them to make up for what had been lost physically to age and the wear of ring wars.
In the other corner stood Ruben Carter who had become known as the most powerful puncher in the middleweight division.  The young Carter lacked Giardello's experience coming into the bout with only twenty four fights under his belt.  What he lacked in experience he made up for in power, speed, and aggression demonstrated by his recent first round knockouts of Clarence James and Emile Griffith.
Round one Carter came out stalking and looking to impose his strength while Giardello counter  punched the forward  moving challenger.  Round two Giardello was on his game moving and connecting with counters as Carter looked for the bomb.  Round three Carter continued his attack and landed a good swinging right that backed Giardello into the corner.
In round four Carter starting finding his mark and taking control of the fight.  Giardello was cut over his left eye early in the round.  Carter landed stiff left jabs on the champ throughout the round and then landed a thudding left hook late in the round that had an effect on Giardello who was forced to hold and buy time.  Carter moved in sensing his advantage to land some more shots but Giardello using his experience in tough moments survived the round with holding, movement, and timely punching.
Round five again saw Carter controlling the action including a solid left hook to Giardello's chin.  Round six Carter was another big round for the young challenger.  Giardello started the round well but then Carter landed a big left-right combination sending the champ into the ropes.  Several more times Carter would land his booming left hook and straight right in the round to force Giardello back.  The good news for Giardello was that the cut from round four was not a problem and never really bled much the rest of the fight.  In addition the shots Giardello was landing were often to the body which would pay dividends later.
Round seven was when things started to change which was "missed" by the movie.  Giardello had a good round where he started landing combinations to the head and body.  In addition Carter started showing his first signs of fatigue slightly slowing down his work rate and the power of his punches.  Round eight was similar to the previous round.  Rounds nine and ten Carter did well but was never able to regain the control he had in rounds three through six.
Then the fight changed even more entering the double digit rounds.  Giardello's experience and conditioning began to shine through.  The bout was fought at his pace.  Rounds ten through twelve were all close but likely went to Giardello as he landed counter punches on the advancing but slowing challenger.
Round thirteen may have been Giardello's best as he continued his comeback now with authority.  The south Philly product was in control as he moved around the ring, landed combinations that affected Carter and then moved away as Carter swung wild punches that missed the defensively talented champ badly.  Round fourteen Giardello hammered away landing lefts to the head and body.
Entering the fifteenth and final round both men touched gloves before finishing an exciting competitive championship fight.  Both also had to know that the fight was close and the last round could be crucial.  Carter found a second wind and controlled the first minute of the round.  Then Giardello took over again landing his punches while making Carter continue to miss every time he threw his wide sweeping bombs.
When the fight was concluded in a show of sportsmanship both embraced and awaited the decision.  The judges would award the fight to the champion Giardello by scores of 69-64, 70-67, and 72-66.  As you can see below I had it tighter but gave the nod to Giardello by one round with the fight being decided on my card in the final stanza (I scored on a current 10 point must system but am not sure the exact method that was used at the time).
Gary's scorecard
| | | | | | | | | | | | | | | | | |
| --- | --- | --- | --- | --- | --- | --- | --- | --- | --- | --- | --- | --- | --- | --- | --- | --- |
| Round | 1 | 2 | 3 | 4 | 5 | 6 | 7 | 8 | 9 | 10 | 11 | 12 | 13 | 14 | 15 | Total |
| Giardello | 9 | 10 | 9 | 9 | 9 | 9 | 10 | 10 | 9 | 9 | 10 | 10 | 10 | 10 | 10 | 143 |
| Carter | 10 | 9 | 10 | 10 | 10 | 10 | 9 | 9 | 10 | 10 | 9 | 9 | 9 | 9 | 9 | 142 |
Both men should be remembered for a great fight that evening.  Frankly I believe the scoring could have gone either way and such is the nature of boxing.  I would like to think it will be seen in this fashion and not the portrayal depicted in the movie.
The fight also demonstrates the excellent boxing skills of Giardello including an elusive defense, good movement, commitment to body punching, and excellent combination punching.  He had those classic Philly skills of using the jab and hitting without getting hit better known in Philly gyms as using the stick and swimming without getting wet.  Finally the Carter fight displayed a toughness and grit that allowed him to overcome the adversity of being attacked by a powerful puncher early on to take over the fight in the later rounds.
The Joey Giardello statue and dedication ceremony will be held this coming Saturday May 21 at 1:00pm (full information below).  If you are a boxing fan and live in the Philadelphia area come out and join us for what should be a great experience reliving the history of the fighting city of Philadelphia.
Giardello vs. Carter (entire fight is in six parts): http://www.youtube.com/watch?v=UtoEPCLBVKw
For further information, history, and details visit
http://www.joeygiardello.net/.
http://en.wikipedia.org/wiki/Joey_Giardello
http://boxrec.com/list_bouts.php?human_id=10923&cat=boxer
http://boxrec.com/media/index.php/Joey_Giardello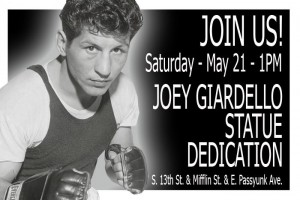 Question, comment, agree, disagree, or anything at all, send it to gpurf3@hotmail.com
Got an Opinion? Submit Your Articles and Press Releases to be posted on NowBoxing.com
*Please refrain from leaving any Racist, Profane or Derogatory comments*