By Gary Purfield
Many things about modern day boxing anger the current boxing fan. Between fighters not fighting on a regular basis, too many title belts, suspicious judging in certain fights, and a myriad of other topics, one notion seems too often overlooked. Why is it such a big deal when a rising fighter or current star loses their unbeaten record.
In today's boxing the minute the "0" goes, a fighter is labeled everything from exposed to fraud and easily cast off from contender to gate keeper status. Yet, in previous days of boxing this was not the case. Find a great fighter from the past who did not lose. Ali lost to Frazier, but to my reckoning, he had a pretty good career after that. The great Sugar Ray Robinson lost several times, but no one moved him from champion to gate keeper following his loss to Jake Lamotta.
Even on a lesser scale in terms of talent but not excitement, what if no one continued to follow the careers of Arturo Gatti and Mickey Ward once they had lost fights. We would have been deprived of their amazing trilogy and so many other fights. Yet today would the same hype be there for fighters such as Gatti and Ward who were guaranteed to deliver action but had respectively five and eleven losses when they entered their first meeting.
Yet that is the trend today. Some have been able to resurrect themselves such as Amir Khan and Victor Ortiz, but even they still have this cloud over their head that will not leave no matter how many impressive victories they tally. And for every Ortiz and Khan, how many fighters are no longer promoted or viewed as true contenders once they experience one defeat.
This Saturday on the undercard of the Paul Williams vs. Erislandy Lara fight in Atlantic City, one of those heralded prospects that suddenly found a 1 in the second column will try to make his rallying return from defeat. Denis Douglin, better known as the "Mama's Boy" because he is trained by his mother, returns after his KO loss to tough veteran Doel Carrasquillo. Douglin looks to get his focus and his image back on track after the setback that took his precious unbeaten record.
I spoke with Douglin about the loss to Carrasquillo back on February 11 of this year, his perspective before the fight, changes after the loss, and how that loss has changed the perception of him amongst boxing media and fans. Douglin discussed how his mindset was going into the last fight and what has changed since.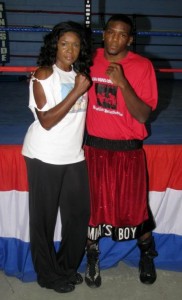 "I pretty much felt I was unbeatable. I felt I couldn't be touched. I actually didn't even want to fight him, I thought I was too good to be fighting him. It makes no sense to fight this guy, I just watched him get beat up a month ago. I didn't take him serious as an opponent, I didn't train as hard as I normally usually train, just calm and relaxed."
Perspectives change and lessons are learned after a tough loss.
"Anytime you step in the ring with someone who is trying to knock you out you got to take that person serious. You never know what they went through before the fight, if they decided they want to give it their all for this final fight, you never know what is going on in someone' mind. You have to train for every fight like it is a world title fight".
"At first, originally my anger was toward the ref, I felt the referee stopped the fight prematurely. I did get caught with a shot, I was hurt, but this is a sport where that is the object of the sport. You're going to get hit and I feel the referee didn't give me any opportunity to show I could come back from being hurt."
"But as I calmed down I can't blame anybody but myself. I got caught with a shot I would not have got caught with if I was in shape and if I was prepared and didn't think lightly of my opponent so it is my fault."
"Now I am back 100% in my skills and my ability. I never lost any confidence in what I can do in the ring but I also now have a new respect for work ethic and I think that I'm very talented but that doesn't mean anything if you're not prepared."
Now Douglin has a new focus and perspective on the sport. He has been in the gym since the Monday after his loss training hard and focused to fight in top condition no matter who is across the ring. But the question will continue to linger amongst the boxing public due to his KO loss of whether he has what it takes to be a champion. Douglin said the following about how perception of him has changed since his first loss:
"Fans, media, and people outside the sport, even people inside the sport, they are very fickle and they base their opinion on record and stuff like that. I guess now a lot of people would say I'm not as good as they thought I was because I lost early."
"I don't get the tension I used to get but that stuff doesn't bother me. As easy as they are to turn off they are that easy to turn on. So now I'm coming off a loss so I expect to be treated funny so when I start winning again they will be back."
In the past a loss was something that a fighter learned from. It taught them what they need to work on and made them tougher, hungrier, and more of an all-around fighter the next time they got in the ring.
I asked Douglin if anyone in his gym has commented to him that a loss can be a good thing and make you a better fighter. Denis discussed that several trainers and former world champs in his gym have informed him that this will help him. He was told that they noticed him getting a little overconfident and it is good that he got this humbling experience early in his career.
"Unfortunately this is what it took for me to learn but I learned so much from this loss so I'm actually kind of glad that it happened now."
On Saturday Douglin will be facing Philly fighter Philip McCants 9-2-1 (3 KO) in a six-round middleweight bout. In McCants, Douglin is not taking the easy road back with someone who will crumble at the first taste of leather. McCants is a hardnosed tough boxer with a difficult style. McCants is coming off a win on 6/25/11 on the Mike Jones undercard where he defeated fellow Philly fighter Kaseem Wilson. McCants has a decent record and both his losses came from decisions. He has never been stopped.
"We wanted a tough opponent, I wanted to get right back into the sport. I wanted everybody to know what happened with Doel was a fluke, it was my fault, and I'm still here, I'm one of the best. We wanted to get a tough opponent and to show everybody I'm not afraid of anybody. I'm not afraid of the sport and I'm not a fighter that wants to be babied."
"We were happy with the opponent that we got, Phil McCants. He is tough guy and he keeps coming. He is from Philadelphia and all the guys out of there for some reason seem to be extra tough."
Yes, Amir Khan may not have the best chin. So Freddie Roach began the process of teaching Khan to protect that chin. Now his long jab and speed keep foes at bay where they have little opportunity to test his perceived weakness. Ortiz had his heart questioned which simply motivated him to show his mettle which he unquestionably did against Andre Berto.
On Saturday, Denis Douglin will begin taking his steps down the road to redemption and try to avoid being another contender who was forgotten after his first loss. Fortunately for Douglin, he has two points working for him that give him a better shot than most to get back to his status before the loss (in addition to his high level of talent and solid amateur background).
He is managed by Al Haymon who is well known for having strong connections and the ability to get fighters on TV. Also, Douglin has an attractive story that is marketable considering he is trained by his mother and aptly nicknamed "Mama's Boy". In addition Douglin is very well spoken and has a TV friendly style in the ring. These factors all add up to him being able to be successful despite the loss.
"That's boxing, you get caught with shots, it happens. The main thing is how you come back from it. It made me a much smarter fighter, a much better fighter so I actually think it's going to help me. I learned a valuable lesson so I will just take it in stride."
Notes
Another topic that came up in the discussion with Douglin was opponent selection in the pros. He discussed that in the amateurs you are constantly having back to back fights with the top talent. Then you turn pro and are consistently put in with guys who fall over after several punches. We discussed how this is not a benefit to the fighter's growth but is done because the undefeated record is so vital to promoting and must be protected.
This discussion lead to a conversation on the negative side of the protected undefeated fighter, which is how will he react when finally faced with adversity. A fighter who has been in tough win or lose is better prepared for the late rounds when they are tired and have to dig truly deep to find a way to win. Some fighter just have that in them but for some it must be gained from experience that they will not get being matched soft.
Question, comment, agree, disagree, or anything at all, send it to gboxing3@gmail.com
Got an Opinion? Submit Your Articles and Press Releases to be posted on NowBoxing.com
*Please refrain from leaving any Racist, Profane or Derogatory comments*