Earlier today Newmarket's 'Phat' Pat McAleese and Northolt's Ryan Toms came face to face for the first time ahead of their Southern Area Light Middleweight title showdown at Wembley Arena tomorrow night.
Following the weigh-in at the Crown Moran Hotel in Cricklewood, London, the two protagonists spoke briefly on their upcoming clash.
Pat McAleese – 10st 13 3/4lbs
"I was just under the weight, just a quarter pound under.
Training's gone well, weight's been perfect and before the only time I made eleven stone before was on the day so that's really good.
So yeah I'm really looking forward to it tomorrow now.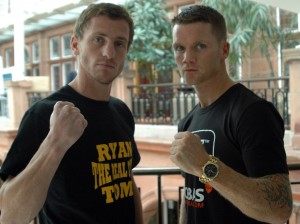 I feel great, I'm ready now. I think Toms is in trouble tomorrow night."
Ryan Toms – 10st 13 1/2lbs
"My weight's bang on, it's been bang on for about a week now.
Yeah, I can't wait, training camps been perfect, Looking forward to it.
I'm not going to say to much about it, but it's going to be a Ryan Toms win though.
It's going to be a great fight, I think our styles are perfect to make it a really good fight."
Pat McAleese versus Ryan Toms, for the Southern Area Light Middleweight title, is a feature fight on the undercard of the Hennessy Sports promoted Dereck Chisora and Tyson Fury's British and Commonwealth Heavyweight title clash at the Wembley Arena on Saturday 23rd July 2011.