Light Middleweight prospect 'Phat' Pat McAleese (12-1-1) gets his first shot at a domestic title, when he challenges Southern Area Champion Ryan Toms for his title, at Wembley Arena on Saturday 23rd July.
The McAleese-Toms battle will be the main support bout for the headlining Dereck Chisora versus Tyson Fury British and Commonwealth Heavyweight title clash and the co-feature Ashley Theophane's British Light Welterweight title defense against Jason Cook.
Earlier today, following a training session at the TRAD TKO Boxing Gym in Canning Town, McAleese spoke briefly about the upcoming bout, "Yeah, originally we were having Phil Fury, but the board wouldn't let us fight for the Irish title, so one door closes and another opens and I've got Ryan Toms for the Southern Area belt.
It's going to be a tough test, I'm more than capable of dealing with it as you'll see on the 23rd.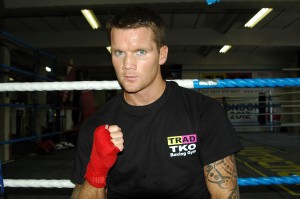 Ryan's an awkward southpaw. I know him, we've met at shows and are friends outside of boxing, as in seeing each other at shows not good friends, but we wont be friends in the ring come the 23rd and I've got the tools to take away the attributes he'll bring.
We've got the best sparring in London here at the TRAD TKO. I've been sparring Billy Joe Saunders, he's one of the best southpaws in the world.
I've also been sparring Amro (Ezzat), he's another really good southpaw, he's a very experienced international amateur that's just about to turn pro, and the excellent Freddie Turner, who's very sharp. So I've had great southpaw sparring, the best.
It's all coming together, me and Brian O'Shaughnessy have been working together well. Working on lots of things so I feel really confident going into my training camp."
Pat McAleese versus Ryan Toms, for the Southern Area Light Middleweight title, is a feature fight on the undercard of Dereck Chisora and Tyson Fury's British and Commonwealth Heavyweight title clash at the Wembley Arena on Saturday 23rd July 2011.
Tickets priced £40, £50and £150 are available from the TRAD TKO Boxing Gym, Gillian House, Stephenson Street, Canning Town, London E16 4SA or call Pat McAleese on 07852 980593