By Gary Purfield
Saturday night at Bally's Atlantic City was supposed to be the showdown between local Jr. Middleweight contenders Gabriel Rosado and Harry Joe Yorgey. The two Philly tough guys had been on a path to meet for a sometime and finally it was set to happen in what would have been a guaranteed action fight. Then Yorgey had to drop out with an injury. In stepped tough guy Allan Conyers only to have to back out mid fight week with a hand injury.
But the show must go on so Hall of Fame Promoter Russell Peltz was able to bring a second replacement, this time on last minute notice, getting Ayi Bruce from Ghana. Bruce is best known for being a tough fighter and beating Shamone Alvarez in late 2010. Bruce had just fought a ten round bout two weeks ago (a win over Hector Munoz) and would have to move up from welterweight to take the bout but despite the pitfalls he took the opportunity. He would likely end up regretting the choice.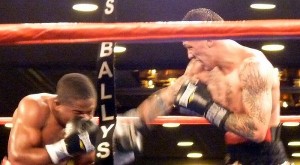 For Rosado he could have backed out instead of taking the risk of a dangerous fighter on short notice. However Rosado's mentality has always included a willingness to take on anyone at any time so he simply waited for his promoter to line one up so he could knock him down. King Gabe entered the ring looking as confident as ever. Prior to the first bell he paced the ring like a caged animal ready to strike complete with his black and gold Trojan style shorts.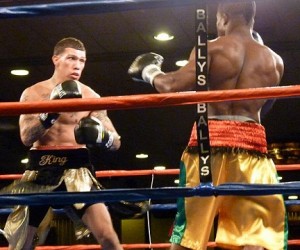 Rosado controlled the fight with ease from the opening bell. Gabe largely employed a stick and move tactic circling the ring to land his punches. For the first three rounds it was mainly landing one punch at a time. Gabe would move in jab, move out, and move back in with a straight right or left uppercut. Rosado easily took the first three rounds and seemed to be heating up as he got a feel for his unknown opponent who was noticeably smaller and out of his natural weight class.
Then in round four of a scheduled eight (originally scheduled for ten but dropped to eight with new opponent) well ahead Rosado landed a quick overhand right that sent Bruce straight into the canvas. The tough Ghanaian who never seemed to get any momentum in the fight would rise and survive the round despite an assault from Rosado to close the show.
The obligatory odd moment of the night came between rounds four and five which puzzled everyone in attendance. It appeared that Bruce's corner was tossing in the towel prompting Rosado's corner to begin the celebration. Then suddenly the fight was back on and round five began.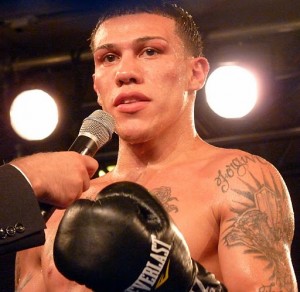 The drama did little more than postpone the inevitable. The bigger, stronger, and more talented Rosado was firing away on his opponent with virtually no return fire the entire round. Then at 2:56 of round five enough was enough and the bout was halted by the referee delivering Rosado his knockout win. The stoppage may have been a bit premature. Bruce was not stunned at the time but he was taking unnecessary punishment without returning fire and had really no chance to win the fight.
Afterwards Rosado 17-5 (10 KO) would state that he started careful in the first round because they did not have an opportunity to see tape on Bruce 20-4 (12 KO) this week, so he wanted to feel out his opponent. While he did not get the fight that he and the fans wanted against Yorgey it was still another workmanlike performance for King Gabe and another win on the resume. Rosado seems to continue improving his abilities getting better each fight. Following the win he would state he wants to fight the best in the division and believes he is ready and prepared for anyone.
Undercard Wrap-Up
Tony Ferrante 11-2 (6 KO) got a convincing win over Andre Hemphill 10-18-2 (5 KO) in a light heavyweight rematch that was as awful to watch as a fight can possibly be. Ferrante won a disputed decision over Hemphill last year and this eight round co-main event fight was meant to settle any controversy from the first go round. Unfortunately for Ferrante and the crowd Hemphill, who felt he was robbed in the first fight, did not come to fight. He came to hold, grapple, and do anything to avoid actually trading punches.
From the beginning of the bout Hemphill constantly threw one punch, grabbed Ferrante, and would not let go. The worst part was that while this was terrible for the crowd it was actually benefitting Hemphill strategically. Ferrante seemed to want to fight with some room and had no answers for Hemphill's holding which completely stifled Ferrante' offense.
This continued on for six rounds with the crowd growing increasingly angry but the referee doing very little about the problem. Finally in round seven with Ferrante openly displayed how agitated he was with his opponent's questionable tactics and lack of desire to actually, well, fight, the referee took a point from Hemphill for holding.
Round seven finally delivered some action and a well needed ending to a fight that could not come to a close fast enough. Ferrante backed Hemphill into a corner landing an overhand right that started the needed damage. Tony "Boom Boom" went after the hurt foe. After taking a flurry of punches in the corner Hemphill dropped to the canvas to avoid further punishment. Hemphill managed to rise so Ferrante charged in to finish the dreadful fight. As Ferrante was reining unanswered blows the referee mercifully for the sake of Hemphill and the crowd halted the bout.
The official time was 2:44 of round seven and it was a relief to everyone in attendance that this one had come to an end. Ferrante gave it his effort to make things interesting for the crowd but that can be hard when your opponent is so blatant about avoiding a fight to spend eight rounds hugging.
Junior Middleweight Jamaal Davis of Philadelphia made his return to the ring following his stoppage loss to Gabe Rosado earlier this year. Davis squared off with main event winner Rosado in the same Bally's venue last February. After a close fight Rosado wore Davis down and stopped him in the 12th round. Davis made his return against Eberto Medina but did not look good in fighting to a majority draw.
Davis and Medina fought on even terms for all six rounds. Each round had a back and forth flow where neither fighter could take control of the fight. Davis had the advantage in skill and speed but never seemed able to impose himself enough to take control of the fight. Anytime Davis landed some shots Medina pushed back with punches of his own and put Davis back on the defensive.
Judges saw the bout 59-55 for Medina, 58-56 for Davis, and 57-57 even. The concern for Davis 12-8-7 (6 KO) is not the final scores but his overall performance which seemed to be less than what he is capable of. If the same fighter that fought even with Rosado for much of their bout was in the ring tonight he likely would have overwhelmed Medina 5-6-1 (1 KO). Davis may have been rusty or tentative following being stopped so his next bout should really gage if this was an off night or signs of a decline.
DeCarlo Perez 4-0-1 remained unbeaten defeating Keane Davis 1-3 in a four round welterweight bout. Perez controlled the action and landed the harder punches. Perez had his biggest moments in round three when he scored a knockdown midway through the round. Davis got up and managed to survive the round despite wobbly legs and Perez attacking with reckless aggression. Perez won by scores of 39-36, 40-35, and 38-37.
Bryne Green 7-4-1 (3 KO) handed Tyrone Luckey 4-1 (4 KO) his first loss with a unanimous decision win in a four round junior lightweight bout. Both men had their moments landing big shots in an entertaining back and forth fight. All three cards had Green 38-37. The difference was in the first round. Luckey appeared to trip and go down but Green landed a body shot as the slip occurred and it was ruled a knockdown giving him the extra points in a close four round fight.
In the opening bout of the evening Naim Nelson won a unanimous decision over Korey Sloane by scores of 39-37, 40-36, 39-37 in a four round Jr. Welterweight bout. Sloane 1-1 was more active but Nelson 2-0 landed the harder more damaging punches including hurting Sloane to the body several times. Nelson and Sloane both reside in Philadelphia and provided an entertaining opening to the evening.
Question, comment, agree, disagree, or anything at all, send it to gboxing3@gmail.com
Got an Opinion? Submit Your Articles and Press Releases to be posted on NowBoxing.com
*Please refrain from leaving any Racist, Profane or Derogatory comments*