By Chuy Marco
Mexico will once again prevail over Puerto Rico on December 3, 2011, when Antonio Margarito aka the Tijuana Tornado beats up Miguel Cotto again.
I used to respect Miguel Cotto before and I was on his side when he fought against the notorious weight drainer Manny Pacquiao, but his cries and accusations of Antonio Margarito only beating him in their first fight because of plaster in his hand wraps is pathetic.
Cotto was showing this picture of Antonio Margarito's hand wrap after their fight and claims that it is enough proof that he used plaster when they fought.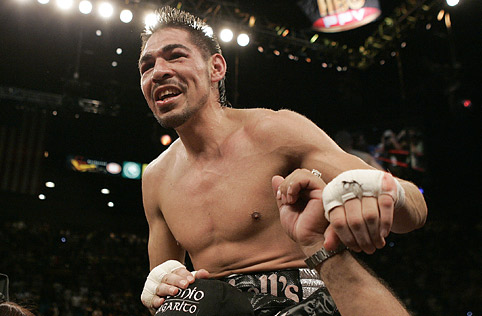 I was laughing along with Margarito when Cotto showed that picture on his Apple IPad because that looks more like the dark threading from the Cleto Reyes gloves than it looks like a chipping or crack from plaster wraps. I never thought Miguel would get so desperate to stoop this low and act so childish and immature.
If Cotto was smart he should really question his loss to Manny Pacquiao because Manny is the one with questionable hand wraps, he clearly stacked his wraps and put rolled tape in between his knuckles before his fight with Antonio Margarito, and this is the fight where Margarito nearly lost his eye — Pacquiao could have used the same type of stacking and rope when he fought Cotto, but why isn't Miguel crying and accusing Manny of steroids or illegal wraps when they fought?
Video of Manny Pacquiao using an illegal hand wrap technique called stacking and using rope between his knuckles.

Miguel Cotto is on the wrong crusade, Margarito is innocent and everyone acts like his hands were soaked in plaster like Luis Resto's but they were not. Antonio's trainer Javier Capetillo only used some small old used gauze in Margarito's wraps before the Mosley fight, not enough to make any type of significant difference in damage. This is why Margarito said he didn't feel anything different in the way his hands were wrapped. In order to make a difference the entire wrap has to be dipped in plaster like a cast and very hard and heavy not just a small piece that was the size of a credit card and padding has to be removed from the gloves like in the case of Luis Resto versus Billy Collins, Panama Lewis who trained Resto dipped his hand wraps in plaster and removed some of the padding from Resto's gloves to inflict heavy damage on Collins.
This is all poor sportsmanship on Cotto's part, so what is Miguel Cotto going to say when Antonio Margarito beats him up again? If I were Cotto I will get down on my knees and beg for forgiveness after all these slandering and insulting accusations he is throwing at Margarito.
Got an Opinion? Submit Your Articles and Press Releases to be posted on NowBoxing.com
*Please refrain from leaving any Racist, Profane or Derogatory comments*
Discuss this topic in the NowBoxing Forums (Membership is FREE)

Big time boxing fan. Grew up in East Los, and been an avid follower of the sport and the legends like Julio Cesar Chavez, Vicente Saldivar, Salvador Sanchez, Carlos Zarate, Erik Morales, Ricardo Lopez and Juan Manuel Marquez just to name a few.
Current favorite boxers: Canelo Alvarez, Mikey Garcia.