British Cruiserweight Champion Leon 'Solid' Williams is in bullish mood, following the news that he will now defend his coveted Lonsdale Belt against Bulwell, Nottinghamshire's Shane McPhilbin on the 13th January at York Hall.
Just before Christmas William's original opponent, Tony Conquest, was forced to withdraw due to illness, which opened the door for Midlands Area Champ McPhilbin to step up to the plate for a crack at the big one.
Speaking earlier today Williams clearly had long time friend Conquest 's plight in mind, as he said "First and foremost I hope Tony gets better soon, I was really looking forward to us fighting each other again, as I'm sure he was." Before adding, "I'm sure he'll get his chance again."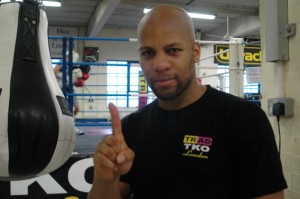 The Streatham based Champion then changed tack and spoke briefly about his preparations, "I'm a hundred and ten percent ready for the 13th, it doesn't matter to me who they put in front of me, Johnny (Eames) and Barry (Smith) have been pushing me, working me hard and honing my skills for any eventuality.
Had some great sparring over Christmas with Mitchell (Balker), Menay (Edwards) and my new gym mate Paul David (English Super Middleweight Champion).
Paul's my new main sparring partner. He's very awkward, very cagey. It would have been great to have had him here when I was preparing for Rob Norton.
As I said here at the TRAD TKO I have a great team around me, got plenty of great sparring partners and it's all good, it's almost perfect and the guy that's fighting me now is gonna get crushed.
I know nothing about him, as far as I'm concerned he's just an opponent for me to beat up, I'm the Champion and I'm gonna stay the Champion, I'm gonna look so good on TV as I beat him up, yeaaah."
Leon 'Solid' Williams versus Shane McPhilbin, for the British Cruiserweight title, headlines Francis and George Warren's Queensberry Promotions first event of the New Year, which takes place at York Hall, Bethnal Green, London, on Friday 13th January 2012 and broadcast live on BoxNation (Sky platform Channel 456 & Virgin 546)
Tickets, Standard Seated – £40 and Ringside SOLD OUT for Williams vs. McPhilbin are available now on-line at www.tkoboxoffice.com. Tickets are also available direct from the TRAD TKO Boxing Gym, Gillian House, Stephenson Street, Canning Town, London E16 4SA.