By  Gianluca (Rio) Di Caro
Some sixteen months after George Groves and Kenny Anderson battled it out for Groves' then newly acquired Commonwealth Super Middleweight Crown, at the M.E.N. in Manchester, the pair are preparing to go to war again on the 16th March. This time it's for the British title Groves ceremoniously ripped from James DeGale's grip back in May last year.
Before I get into making any predictions about the outcome, let's cast our mind back to the 13th November 2010 when the pair clashed for the first time.
Some six months earlier Groves conclusively beat Ghana's Charles Adamu to be crowned Commonwealth Super Middleweight Champ and was the bookies favourite to retain his crown against Anderson.
However the Groves that turned up was not the same as the one that stopped the Ghanaian inside six rounds. Groves had a sluggish start, keeping his distance and only occasionally landed the odd combination.
By the third Groves became increasingly reckless and started showboating with his hands down, in an attempt to draw the Scot in. When Anderson did come forward the pair started trading some venomous big shots and the writing was on the wall for Groves, as it was Anderson that was getting the better of each exchange.
Things then got worse for Groves, he was forced back onto the ropes, constantly getting caught by big right and left hands. Groves was clearly struggling to cope with the constant pressure and it came as no surprise when Anderson landed a peach of a left hook to send the Londoner to the canvas for the first time in his professional career. Luckily for Groves before Anderson could finish him off the bell rang to end the round.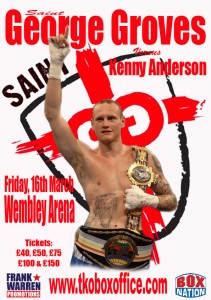 Coming out for the fourth round it was clear that Groves wanted a war and was seemingly determined to go for it regardless of the instructions his manager/coach Adam Booth was screaming at him from ringside. As the round progressed Booth was becoming increasingly irate. When Groves returned to the corner at the end of the round Booth implored Groves to stop slugging it out with Anderson.
In the fifth Stanza Groves continued to ignore Booth's advice, as he continued to slug it out with Anderson each time the Scot marched forward. Groves showed heart though and eventually got a break, landing a couple of wicked body shots that stopped Anderson in his tracks.
Finally Groves started to heed Booth's warnings and started boxing long, smoothly moving around the ring keeping Anderson at bay with good solid jabs. Around the midway mark the Scot began to tire, in an instant Groves took the fight back to Anderson and let rip with a series of heavy body shots.
In a flash the tables had turned, now it was Anderson boxing on the back foot as Groves chased him around the ring letting rip with exocets to body and head until the referee stepped in to stop the fight on the 2 minute 35 second mark.
Whilst the fight on the 16th March is going to be another all action affair, I for one do not think that Groves will make the same mistakes as he made the first time these two met.
The reason I say this is just two fights later Groves fought and beat his old adversary from the amateur days, James DeGale. Throughout the bout Groves stuck rigidly to Adam Booth's excellent game plan, keeping it long, picking his shots and not getting into the much expected slugging match.
It's these tactics that eventually see Groves get the better of Anderson last time, this time around expect him to use this approach right from the off, as well as notch up another stoppage finish.
The main support for Groves-Anderson sees the welcome return of former British Light Middleweight Champion Sam Webb in a British Light Middleweight title final eliminator against former Commonwealth Champion Matthew Hall, which should be an absolute cracker and could well be the fight of the night.
Webb's fired up at getting straight back in the mix for the chance to recapture the coveted British crown, that he lost to Prince Arron in a storming battle back in May last year, so we can expect a similar gutsy performance to those he put up against Anthony Small, to win the title in March 2010, and against Martin Concepcion some seven months later in his first defense.
Hall on the other hand will be equally determined to prove to the doubters out there that he is still Championship material. Saying that I am sure that his first class performance against Kris Carslaw, back in November, will have already have swayed many of them into realising this.
It's a hard fight to call, If Webb tries to take Hall head on it could go awfully wrong for the Chislehurst man, I can't help but feel that if this becomes a slug fest it will be Hall that will be victorious and get to challenge Brian Rose for his crown – I know Rose's first defense is against Max Maxwell, but honestly I can't see Maxwell causing an upset – however if Webb boxes clever and utilises a game plan similar to the one used against Prince Arron I envisage a totally different result and it will be Webb that emerges victorious.
Sticking with the Light Middleweights Southern Area Champ Steve O'Meara takes on former Commonwealth Champion Bradley Pryce in a non-championship bout. Just as with Webb-Hall this bout has the potential to be an explosive all action affair, although have to say it could well be a short one if O'Meara continues his exceptional form of late – first round knockout of big punching Ryan Toms to lift the Southern Area strap in September last year and another first round KO of Nathan Weise in his first defense back in December.
Also on the card are no less than three classy TRAD TKO gym mates, former Olympian and current Southern Area Middleweight Champion Billy Joe Saunders, Dean 'Irish Lightning' Byrne and the superb rising Super Middleweight star Frankie Buglioni.
Last but not least Sam Webb's team mate the hugely popular 'Super' Bradley Skeete will take part in his third bout of 2012.
Even though opponents have yet to be named for Saunders, Byrne, Buglioni and Skeete, already this card is looking to be one of the strongest and most exciting of the year so far. Mind you it could also be one of the shortest.
The reason I say that is I honestly can't see either Groves-Anderson, Webb-Hall or O'Meara-Pryce going the distance, and let's face it no matter who you put in with Saunders and Buglioni they are likely to get them out of there early.
Out of Saunders' last six fights only one, against Gary Boulden, has gone the distance, all the others Billy Joe dispatched in under two rounds, whilst his TKO gym mate Buglioni has two first round finishes out of three outings, including a stunning stoppage of former Southern Area Champ Paul Morby, pretty impressive when you consider that headlining Kenny Anderson took three rounds to finish Morby off only a month earlier.
The Frank Warren Promoted event, headlined by 'Saint' George Groves versus Kenny Anderson, will take place at Wembley Arena, and broadcast live on BoxNation (Sky Ch. 456 and Virgin Ch. 546), on Friday, 16th March 2012.
Tickets, priced £150 (Ringside), £100 (Floor), £75 (Floor), £50 (Tier) and £40 (Tier), are available now on-line at www.tkoboxoffice.com