In March 2011 the Blockbuster Film "The Fighter", which told the story of boxing legends "Irish" Micky Ward (played by Mark Wahlberg) and his brother Dickie Eklund (played by Christian Bale), burst on to the silver screen.
The film, which portrayed the family's journey from despair to the top of the world of boxing, was a huge box office hit. No surprise then that during the 2011 Movie Award season 'The Fighter' won no less than ten accolades, including 2 Academy Awards, 3 Golden Globes and Best Sports Movie!
Now, some twelve months later, boxing promoter Nina C announces that she is set to bring Micky and Dickie to the UK to talk about their rags to riches story in their own words at three special events, titled "An Audience with the Real Fighters", which will take place at three venues in London, Essex and Kent over the May Bank Holiday weekend.
Making these events even more special is that this will be the first time, since the film's release, that the brothers will have spoken in public about their now famous story.
Micky, who graciously delayed the American release of his new book "A Warrior's Heart" in order to undertake the mini-tour, said, "I'm really excited to be coming back to London, have always had a lot of love for the UK as that is where I won my WBU Championship Light Welterweight Belt – it's one of my favorite places".
Older brother Dickie then added: "I made some good boxing friends in the UK and can't wait to catch up on what's going on there. The Brits are good people – really looking forward to it. I'm ready to go and hope the UK is ready for me and to hear the tale of when I knocked down Sugar Ray….. over a cuppa!"
Nina C, the first female promoter in the world of boxing, has really come up trumps with this very special series of events and as usual she leaves no stone unturned to present boxing fans a memorable night of entertainment. In addition to an audience with the brothers each event will include a smorgasbord of appetizing meals, entertainment and, as always, a few surprises along the way!
Excited at pulling of such a coup Nina said earlier, "It's such a fantastic film, and the beautiful thing is that from start to finish it's true.
This is a once in a lifetime experience for me and I am proud to be promoting the brothers and what better way for fans to meet them than at "An Audience With".
Dickie is a joker, a laugh a minute and Micky a gentleman. They are both really lovely people and it's an honor to work with them"
Nina has also arranged that the visit by Micky and Dickie will raise much needed funds for the OneLife UK Charity. OneLife UK Rep Wayne Eldridge spoke briefly on the news "I was shocked to get the call from Nina and really excited that she chose us! This will help countless people better themselves and better the communities they live in".
During their stay the brothers will also be visiting selected gyms to meet local underprivileged kids, who will have the opportunity to work out with the legends and, hopefully, generate some fundraising. These will include Brentwood ABC, Essex, O'Neill's Gym, Margate, Kent and the Legendary TRAD TKO Gym in Canning Town, London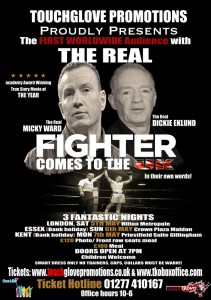 Dates for An Audience with The Real Fighters – Micky Ward and Dickie Eklund:
Sat 5th May London Hilton Metropole
Bank Holiday Sunday 6th May Essex Crown Plaza Maldon ( 10 min M11)
Bank Holiday Monday 7th May- Kent Priestfield Suite Gillingham
Tickets
VIP – £120 includes photograph with Micky Ward and Dickie Eklund and as well as front row seats and a meal
Gold – £100 includes meal
Tickets are available on line at www.touchglovepromotions.co.uk and www.tkoboxoffice.com or call Touch Glove Promotions Office 01277-410167 10-6pm
Children are welcome