On Friday April 20 in Dortmund, Germanys undefeated Goda Dailydaite, 6-0 (2), takes on Arleta Krausova, 6-1 (2), from the Czech Republic for the vacant World Boxing Federation Women's World Featherweight title on a show promoted by Khalil Boxpromotion.
Born in Lithuania in 1985, Goda Dailydaite is now residing in Essen, not far from Dortmund. She turned pro in June 2010, and already in her third fight, in April 2011, she won an Intercontinental title by defeating Austria's Doris Koehler by ten round unanimous decision.
Dailydaite has since scored additionally three victories, and is aiming to take her career to the next level against Krausova. The 31 year old from Usti will enter her second world title fight, having lost a spirited challenge of WBF Super Featherweight Champion Ramona Kuehne on points last year.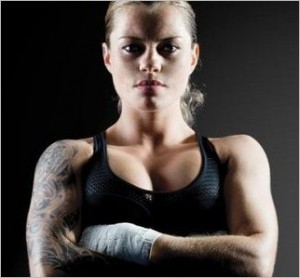 In her last outing Krausova won a minor championship by defeating another German, Pia Mazelanik, this past November. That bout, like the Kuehne-challenge, also took place in Germany, so fighting for titles against Germans in Germany is nothing new to Arleta Krausova.
On the same night in Les Pennes-Mirabeau, France, WBF Intercontinental Light Heavyweight Champion Nadjib Mohammedi will put his title on the line against Algerian-born Swiss Mohamed Belkacem at the Salle Jean Roure. This will be the first defense for Mohammedi, who won the title last year at the same venue against Georgian George Tevdorashvili.
Being a former French and European Union Champion, as well as a former WBO World title-challenger, Mohammedi, 25-3 (13), is the more accomplished of the two. But former Swiss Champion Belkacem, 20-4-1 (9), is no stranger to competing at championship level himself, and a year ago he proved his grit by losing a competitive decision to current WBF World Champion Doudou Ngumbu for the African Boxing Union crown.
The winner of the Mohammedi vs. Belkacem WBF Intercontinental Light Heavyweight title fight, promoted by Robert Safrani and B C Center, could be in line to challenge the aforementioned Ngumbu for the World Championship, so a lot is on the line this coming Friday. The loser will have to get back in line.
www.worldboxingfederation.net