France-based Cameroonian Carlos Takam is the new World Boxing Federation International Heavyweight Champion after scoring his biggest victory so far on Saturday night in Noisy-le-Grand, France, stopping former World Champion Francois Botha in the eleventh round.
The 31-year-old Takam, a 2004 Olympian, improved his impressive professional record to 25-1 (20), while South African Botha falls to 48-7-3 (29), and could be at the end of the line after an impressive career that saw him capture IBF and WBF world titles, and included fights against some of the sport's biggest names.
Botha fought well in the early rounds, and had his moments against the lesser experienced hometown favorite, but as the rounds went by the physical advantage and punching power of Takam took its toll, and he slowly but surely began to wear the visitor down.
After the bout an ecstatic Takam praised Botha for putting up a good fight, and promised his fans that the victory is only the first of many big triumphs to come. It certainly was an impressive performance by the winner, who could be in line to face WBF World Champion Michael Grant in the future.
The Carlos Takam vs. Francois Botha WBF International Heavyweight title fight at Gymnase Jean Richepin in Noisy-le-Grand was promoted by Joseph Germain.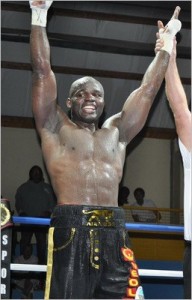 www.worldboxingfederation.net