By Tan Wang
I've never seen an elected official dress haggardly to public gatherings and interviews, but I guess Filipino congressman/boxer Manny Pacquiao is the only politician that thinks it's okay to walk around with an untrimmed Fu-Manchu goatee, unruly bed hair, and house clothes while showing up late for public events or not even showing up at all without notice.
Every time Manny Pacquiao does an interview he looks disheveled like he just woke up from being hungover after a late night partying. He goes to Jimmy Kimmel's late night talk show all the time looking like a school kid with a jacket and sneakers on, laughing like a 10-year-old child whenever a question is asked, is this how a congressman in his 30's is supposed to carry himself? I know this is not common in the Philippines having looked up Filipino politicians the majority of them dress clean cut, with dress shirts or suits, just like most politicians from other countries. So why does congressman Manny Pacquiao believe he doesn't need to be clean shaven with a well groomed style in public?
To me it shows arrogance and Pacquiao must think the world revolves around him. Politicians must show up on time, not skip important engagements, and dress professionally, because anyone who wants to be taken seriously as a politician who represents their country would have the decency to at least look presentable and make sacrifices to be a public servant.
When congressman Pacquiao visited the White House to meet President Barack Obama, he went there looking like the long lost Filipino member of the Beatles with his long hair style, long untrimmed nose hairs, long facial hair, and a suit that had sleeves so long it looked like he borrowed it from Kobe Bryant. I'm surprised Pacquiao's team even let him show up to the White House looking like that.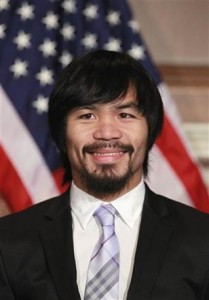 If Pacquiao wants to be a good representative of the Filipino people and Asians in general, he needs to improve his image and style. If I were Pacquiao, I would first start with shaving that Fu-Manchu goatee off and get a short hair cut, then, I would hire a stylist to help find clothes that match and tailored suits that actually fit to look professional.
Maybe Pacquiao is just naive and lives in his own world because he doesn't seem to really care, and he doesn't even seem to have any shame at all or maybe he just has poor advisers who aren't doing their jobs, and are scared to tell him how to dress for fear of pissing him off and being fired or maybe he's just a puppet being used for other peoples political agendas. If these so called advisers really cared about Pacquiao they would at least advise him on how to dress and how to answer certain questions to save him from public humiliation.
Got an Opinion? Submit Your Articles and Press Releases to be posted on NowBoxing.com
*Please refrain from leaving any Racist, Profane or Derogatory comments*
Discuss this topic in the NowBoxing Forums (Membership is FREE)