ESPN Deportes' Viernes de Combates (Friday Night Fights) boxing analyst Delvin Rodriguez  was honored last night at the 87th annual Boxing Writers Association of America awards dinner in New York for his participation in the BWAA's 2011 Fight of the Year. The July 15, 2011 edition of ESPN's Friday Night Fights featured the epic bout between Junior Middleweights Rodriguez and Pawel Wolak– ending in a 10-round majority draw, one of the all-time great battles in the history of the series. Watch the entire bout on the WatchESPN player.
"It's an honor and privilege for me," said Rodriguez. "You work so hard as a boxer and to get recognized for Fight of the Year is a big accomplishment. It feels great be part of such a big event."
Doug Loughrey, director, programming and acquisitions at ESPN said, "The fight between Wolak and Rodriguez is clearly one of the top three fights in the history of ESPN boxing. Being recognized as the Fight of the Year is true recognition of the high quality competition showcased weekly on Friday Night Fights. In an increasingly crowded field of boxing telecasts, it is ESPN's broad reach coupled with the ability to bring promoters together to make great fights so successful."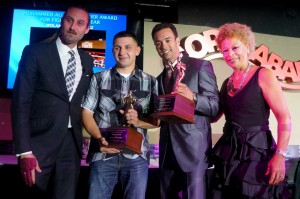 Center: Pawel Wolak (L) & Delvin Rodriguez (R) (Credit: Stephen McDonald/ESPN)
Two other ESPNers were also recognized last night, each receiving BWAA Barney Awards, which recognize excellence in boxing journalism: ESPN.com's Kieran Mulvaney (second place, boxing event coverage, second place, boxing column) and Grantland.com's Eric Raskin (third place, boxing feature, third place, boxing investigative reporting).
Also, 2011 ESPYs Arthur Ashe Courage Award Winner Dewey Bozella received the BWAA's Bill Crawford Award for Courage in Overcoming Adversity.
This Week on ESPN's Friday Night Fights:
Former Middleweight world champion Kelly Pavlik (38-2, 33 KOs) and Scott Sigmon (22-3, 12 KOs) meet in the 10-round main event June 8 at 10 p.m. ET on ESPN2 HD, ESPN Deportes, and ESPN3 from Las Vegas.