By Pierre Grimm
I bet the Manny Pacquiao fans are nervous after seeing how flat and old the Pacman looked compared to the Desert Storm Timothy Bradley at the weigh-ins.
The weigh-in showed me that Pacquiao is no longer hungry, he has become a religious preacher, and one thing is for certain, Manny is still one of the worst interviews in all of sports, he can't even hold a dialogue with you, just one word answers and a bunch of giggling — it's hard to believe he is actually a congressman.
Pacquiao weighed in at his heaviest 147 on the dot, he looked weak and unenthusiastic. Bradley is not messing around, he came to the weigh-ins looking ripped at 146 pounds, he was built like a tank ready to tear down some walls. Bradley is a vegan, but he is one buff vegan, and his mindset and skill set are enough to beat the Filipino congressman/singer/preacher/boxer.
Bradley was like a rabid dog, he was snarling and really grinding his teeth, he was an animal ready to tear Pacquiao's face off. Pacquiao disrespectfully smiled and laughed at Bradley's seriousness, and the Pacman will surely pay the price on fight night for pissing him off. It's pretty clear from looking at their Physiques that Bradley trained like a mad man while Pacquiao looked like he didn't train serious. Pacquiao is probably overlooking Bradley and thinks he is some soft puncher, but he won't be smiling when that right hand lands on his face.
Look at the body comparison in this weigh-in photo, Pacquiao's arms look weak compared to Bradley's and you can see the hunger in Bradley's face while Pacquiao looks timid and scared.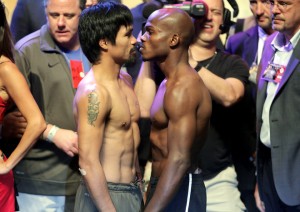 I could see the headlines already with an excuse from the Pacquiao team, "Manny Pacquiao spent more time preaching than boxing, that is why he was unfocused and lost the fight to Tim Bradley."
I think many Pacquiao fans won't order this fight and save their money because they know the outcome, Pacquiao might actually get stopped in this fight or if the goes the distance we could see another Juan Manuel Marquez situation, where the judges unfairly give the decision to Pacquiao. I, for one, am ordering the fight because I don't want to miss seeing Bradley pull off the upset live. I can't wait for this fight…and the New WBO Welterweight Champion…Timothy "Desert Storm" Bradley!
Got an Opinion? Submit Your Articles and Press Releases to be posted on NowBoxing.com
*Please refrain from leaving any Racist, Profane or Derogatory comments*
Discuss this topic in the NowBoxing Forums (Membership is FREE)