Washington, D.C. (Feb. 25, 2013)- Top Welterweight Prospect, Dusty Hernandez-Harrison of Washington, D.C., kept his undefeated record intact scoring a six-round unanimous decision win over cagey veteran Aaron "Showtime" Anderson in the co-main event Saturday at Resorts Casino in Tunica, Mississippi.
Hernandez-Harrison is a fan favorite in the Tunica region since making his pro debut in 2011 at the age of 17. The crowd was cheering wildly throughout the bout as the 18-year old fighter controlled the action with his superior hand speed, boxing ability and defense. In the sixth and final round, the sold out crowd was on their feet when Hernandez-Harrison appeared on the verge of stopping the wily 21-fight veteran. With the dominating 60-54 shutout victory, Hernandez-Harrison improves his record to 13-0, with 8 KOs.
"I couldn't be happier with his performance," said Dusty's father and trainer, Buddy Harrison. "This guy likes to clown around and throw fighters off their game, but Dusty handled it great and didn't get frustrated by his antics." One of those antics included Anderson storming Dusty's corner following round three resulting in a brief melee, but those tactics didn't work and Dusty maintained his composure and controlled the rest of the bout.
Hernandez-Harrison is off to what promises to be a busy 2013 under the guidance of attorney and sports agent Jeff Fried who will have the young boxer back in action on April 12 in Dover, Delaware as part of the Dover Downs Casino Friday Night Fight Series.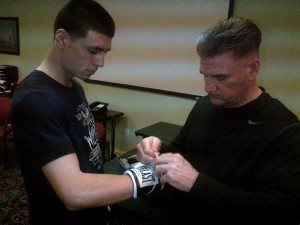 "I love fighting in Mississippi," Hernandez-Harrison said. "I have a lot of fans down here and appreciate that I started my pro career in Tunica." After the fight ended, and before heading to the dressing room, Hernandez-Harrison spent the next 45 minutes shaking hands, taking pictures and signing autographs with fans and thanking them for attending the bout and supporting his boxing career. "Some things just come naturally, such as Dusty's genuine appreciation for the fans that support his career," said Fried.
In addition to his boxing career, Hernandez-Harrison is also a full time student at the College of Southern Maryland. After his classes and homework ended Thursday evening, the first year student hopped on a plane to Mississippi early Friday morning for the weigh-in.
"I really enjoy going to school and can see myself eventually pursuing a Masters one day," Hernandez-Harrison said. "I know when I get to the next level I may need to cut my class load down so it doesn't affect my education or my boxing career."
"The boxing events at Dover Downs are major promotions and that is a terrific venue. I will be preparing for the challenge on April 12 and it's great that hundreds of my fans from the DC area will be there supporting me," Dusty added.