Brooklyn, New York – The Serrano sisters from Bushwick, Amanda and Cindy, have been classified in three of the most important major sanctioning bodies in professional boxing.
At super featherweight division ( 130lbs ), Amanda ( 17-1, 12 KO's ), a Puerto Rico native is ranked # 1 by the International Boxing Federation (IBF), # 2 by the World Boxing Association (WBA), but in the World Boxing Council (WBC) is ranked # 5 at the featherweight division ( 126lbs ). Her older sister, Cindy (18-5-2, 8 KO's) is now ranked in the super featherweight # 4 by the IBF, and # 5 in both WBA and WBC.
"Thanks IBF, WBC and WBA for having us in the top ten. That means a lot to us" said 24 year old Amanda "We are super motivated, looking on adding more titles in our collection. We're gonna make Puerto Rico and Brooklyn proud. This is women's boxing!!!".
On September 10, 2011, Amanda became the first female boxer to win a super featherweight IBF world title by defeating Kimberly Connor (10-2-2, 4 KO's) by way of knockout in the first round. Later, on February16, 2013, Amanda captured the featherweight Universal Boxing Federation (UBF) and Women's International Boxing Association (WIBA) world titles by defeating Dominican localist, Wanda Pena Ozuna (8-5, 2 KO) by TKO in the first round.
Cindy, a Brooklyn native said: "It's good to train hard in the gym, keep winning fights, and suddenly I could go for a world title at any time. The Important thing now is to be 100 percent focused in training". In 2012, Cindy captured two titles, the vacant WIBA world title at lightweight division (135lbs) after defeating Kerry Hill, and in November, the Universal Boxing Federation International title over Angel Gladney. Both wins were by
unanimous decision.
"We will continue representing Puerto Rico and Brooklyn in and outside the ring. We never stop training, Amanda and Cindy are ready to succeed in major challenges, and hopefully the fans can watch the girls fight soon on TV" said Jordan Maldonado, trainer and manager of the Serrano sisters. Amanda and Cindy's upcoming bouts will be announced shortly.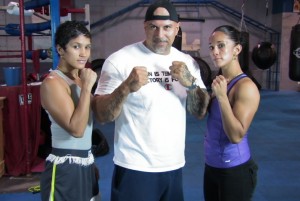 Photo Team Serrano by Ash Kalmar. Cindy and Amanda individual posing photos by Zohn Yancy, IMI PRODUCTIONS.
Download Footage – Amanda and Cindy Training https://www.yousendit.com/download/UVJnTkZqQ0NCSWNpR01UQw