By Freddy Fresco
I recall Floyd Mayweather and his diehard fans calling Manny Pacquiao out for catchweight fights. Now Canelo Alvarez who is a big junior middleweight will be fighting Floyd at a weight of 152 instead of the 154 pound limit. Talk about hypocrisy.
I call it shameless. Just like how Mayweather laughingly admitted to the media that his team handpicked opponents to make his career easy. We all know why he had Canelo fight at a catchweight because unlike Oscar De La Hoya and Miguel Cotto he isn't war torn or washed up.
During the build up for the Miguel Cotto fight, Mayweather said straight out that Cotto was undefeated because his two losses were disputed. Antonio Margarito might have used handwraps against him, and Manny Pacquiao drained him at a catchweight. Floyd insisted he didn't fight catchweight fights because he wanted his opponents to be comfortable at the weight not drained.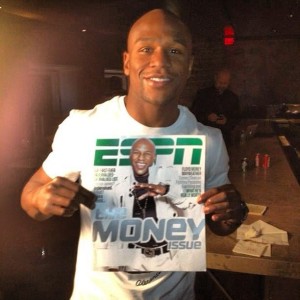 Now that Mayweather vs. Canelo is happening the Floyd fans are justifying the weight limit, claiming it's legit because Canelo balloons to 170 pounds on fight night. These are the same guys that said Manny Pacquiao isn't great like Floyd because when Floyd fought at 154 pounds he didn't need a catchweight. They were extremely vocal in their non stop hate campaign of catchweights and Pacquiao that they would even boldly claim that Floyd didn't need a catchweight to win legit titles at junior middleweight.
Well if Mayweather is so great, why after fighting and winning titles at junior middleweight, addressing catchweights as a punk move to discredit another fighter, is he fighting a catchweight fight if according to him size don't win fights, skills do?
Maybe because he isn't as great as his fans make him out to be. His biggest accomplishment has nothing to do with the combative sport of boxing, it has to do with his salary and his fight purse. You always hear about his Money May persona and how he is the cash cow as if that is supposed to make him a great fighter because he can earn 41 million for a fight. Money has nothing to do with greatness, even horrible action movies make big money at the box office does that make them great films?
When it's all said and done people will remember Floyd Mayweather more for how much money he made in boxing because it overshadowed anything he has ever accomplished inside the ring.