Bellator MMA goes to the Landers Center in Memphis, Tennessee on May 17 for an action packed Pay-Per-View event headlined by Mixed Martial Arts legend Quinton "Rampage" Jackson and top contender King Mo Lawal. With a lightweight interim title co-main event between Michael Chandler and Will Brooks, and the Bellator debut of superstar Tito Ortiz.
Rampage Jackson is one of the biggest names in MMA, he reigned for many years in the light heavyweight division fighting the best in the world, his opponent is the brash and hard hitting fighter King Mo.
Jackson is happy to fight in his hometown of Memphis and is using that as extra motivation to bring home the victory against King Mo.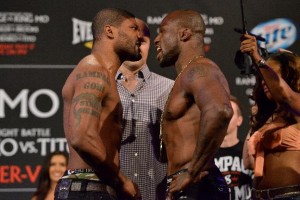 The original main event was to feature a lightweight title fight against champion Eddie Alvarez and Michael Chandler but the fight was scrapped after Alvarez suffered a concussion in training. Chandler's opponent will be Will Brooks and the Bellator lightweight interim title will be on the line.
Tito Ortiz hasn't fought since July 2012, this will be the debut of the Huntington Beach Bad boy in Bellator, he is facing Alexander Shlemenko in a light heavyweight bout. Ortiz was scheduled to make his debut at Bellator 106 against former training partner and friend Rampage Jackson but suffered a neck injury in training camp forcing him to pull out of the fight.
Watch Bellator 120 Jackson vs King Mo live on PPV at 9:00 PM ET/PT on Saturday, May 17, 2014. Preliminary undercard bouts will be live streamed online at Spike.com at 5:00 PM ET/PT. Spike TV will also televise the prelim undercard continuation at 7:00 PM ET/PT all before the PPV broadcast main card begins.