By Chuy Marco
Manny Pacquiao is going to fight Timothy Bradley for a third time on April 9, and nobody seems to care or notice the fight coming up.
So what does Pacquiao's camp do to gain interest in the rubbermatch? They use another fighters name to sell the fight, usually its Floyd Mayweather, but this time around they are riding on the coattails of the Mexican superstar Saul "Canelo" Alvarez to gain some interest in Pacquiao vs Bradley 3.
Bob Arum and Freddie Roach are really trying to use Canelo's name to sell the fight. The biggest fight coming up is Canelo vs Amir Khan, and that is going to outdo the Pay-Per-View buys of Pacquiao vs. Bradley 3. Canelo has proven he is the draw in boxing since Mayweather retired.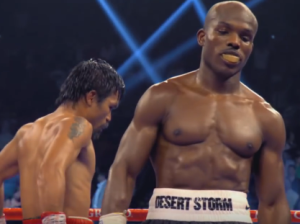 Pacquiao has a dwindling fanbase, ever since he hid his injury heading into the Mayweather fight and let the paying audience down with a weak performance, the fans turned on him. Pacquiao just showed up to collect a paycheck against Mayweather and he will do the same thing when he fights Bradley, he will box without any intention of proving anything, and Bradley will either win by decision or by stoppage.
That talked about Canelo vs. Pacquiao fight will be out the window and even if Pacquiao won against Bradley, he wouldn't have the courage to go up to 155 pounds like Amir Khan and fight a fresh powerful young fighter like Canelo. I know Timothy Bradley has the balls to step up in weight to fight Canelo, he would even fight Gennady Golovkin if the money was right, but Pacquiao already cried about 150 pounds being to much when he drained Antonio Margarito instead of fighting him at the full 154 pound limit for the WBC title.
So don't buy into the hype, Pacquiao is not going to fight Canelo, they are just using his name to gain some interest from the Mexican fanbase.

Big time boxing fan. Grew up in East Los, and been an avid follower of the sport and the legends like Julio Cesar Chavez, Vicente Saldivar, Salvador Sanchez, Carlos Zarate, Erik Morales, Ricardo Lopez and Juan Manuel Marquez just to name a few.
Current favorite boxers: Canelo Alvarez, Mikey Garcia.